Read articles with information about upgrading your San Diego home's landscaping design. With over 35 years of experience, you can trust the landscaping experts at San Diego Landcare Systems, Inc.
Monday, 12 September 2016
Stunning patio inspiration is available to us at our fingertips, but which route should we go with when doing a patio makeover? Have you ever thought of your patio as the newest room in your house? If you shift your thinking, this "new room" opens up possibilities for designing that space you always desired– even if it is outdoors!
Patio Makeover #1 – Outdoor Dining Room
If you entertain regularly with large meals, perhaps your home could use one more dining room. The patio can be transformed into an elegant dining space with a few practical details. Of course, you will definitely need to have an outdoor dining table and chairs. In addition, a space-defining structure– whether informal or formal– helps to set off the new room. The ideal finishing touch to this patio makeover is an outdoor chandelier.
Patio Makeover #2 – Outdoor Kitchen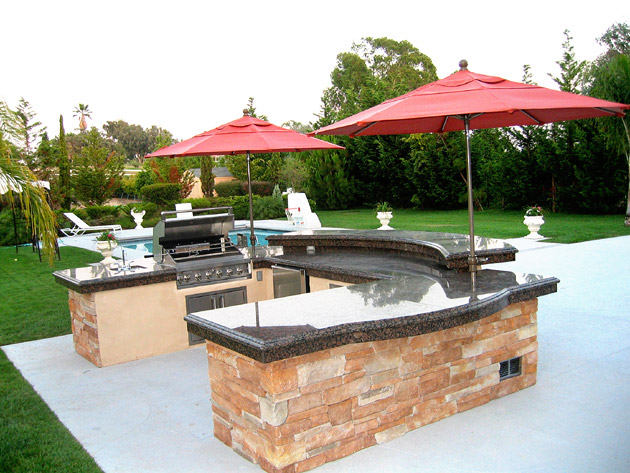 When you love to entertain large groups, you may discover that a single kitchen never quite seems to be sufficient. Your patio makeover can end up being that extra kitchen you always wished for. Limitless choices are plentiful for you to surround your outdoor space with all the amenities of a working kitchen. Cook in style, and double your household kitchen options!
Patio Makeover #3 – Outdoor Living Area
Even if your home does not offer an expansive home entertainment layout, you can take advantage of your patio and yard, and there really is no limit. Offer plenty of places to take a seat, socialize, and get together by tactically placing your outdoor seating in conversation groupings. Fire pits, water features and outdoor televisions are enjoyable ways to encourage your guests to have a great time while they delight in your outdoor living area.
Patio Makever #4 – Outdoor Living Room
Why have one living room when you can have two and truly relax in the great outdoors? Outdoor fabrics, weather-friendly cushions, and waterproof furnishings have been revolutionized for practicality and strength, making an outdoor living room much more practical. Design your space to consist of a sofa or sectional, side chairs, a coffee table, and possibly a fireplace, and you'll possess all the comforts of home– with stars as your ceiling.
Patio Makeover #5 – Outdoor Bedroom
Is there anything more indulgent than going to sleep under the stars? And with an outdoor bedroom on your patio area, you certainly do not have to "rough it." Hanging daybeds or plush exterior daybeds make for glamorous napping spots. Keep eye-catching outdoor storage nearby to house comfortable blankets and pillows, and you are ready for a nap at any time. The most important part of an outdoor bedroom is shutting down long enough to enjoy it!
Do you need a patio makeover? From concept to completion we can make your landscaping dreams a reality. Call San Diego Landcare Systems at 760-788-8140.