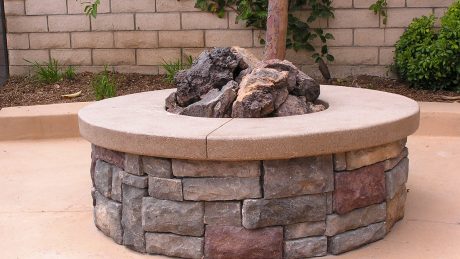 Have you been searching for a way to change the way your deck or patio looks? Have you considered an open-air room? If so, then an outdoor fire pit or freestanding, pot-bellied fireplace called a chiminea can create a cozy, warm room that you can enjoy even in the harshest winter conditions.
Fire Pits Can Be Used Anywhere and Bring A Beautiful Look To Any Home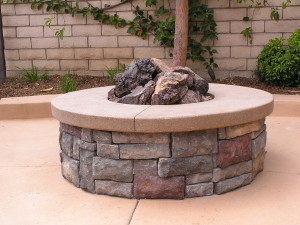 The great thing about fire pits is they are great gathering places. A fire pit or fire ring is a great way to enjoy the outdoors year round and gather friends and family.
Fire pits are so good because you can put them anywhere you want – patio, deck or a sheltered courtyard. In simple terms, wherever your group of friends want to hang out, you can move your fit pit to.
Another great thing about fit pits is that they make most any landscape design look flawless. The reason is that they can be found in an array of natural materials:
Colored concrete
Metal
Stone
Tile
By getting a style that's similar to your home's look, you can easily blend it into the existing landscape and give it a relaxed look.
Not only do they come in various materials, they can be found in different designs and shapes – traditional rock fire pits and fire pit tables, to name a couple.
Along with that, you can use the fuel that's right for you:
Gel and bio ethanol
Natural gas
Wood
Wood substitutes
10 Helpful Tips To Remember To Get The Most Use Out Of Your Fire Pit Safely
Be sure the fire pit is in level, stable ground
Fire pits need to be placed as far back from combustible materials as they can be
Use well-seasoned, dry firewood
Hardwoods like ash, hickory, madrone and maple provide a cleaner burn than softwoods like cedar, fir and pine
If you want smoke-free burning, go with natural gas
Use wood substitutes like compressed sawdust-comprised logs or wax-based logs to decrease the possibility for sparks and pollution
Compressed logs can be comprised of molasses, recycled coffee grounds and some wax, which provides a taller, natural flame with a slight sweet scent to it (not a chemical one)
Make sure you observe fire ordinances; never use fire pits on windy days or days that have been designed no-burn days
Always have a garden hose or fire extinguisher handy
Do not ever leave your fire pit unattended or overfill it
Why Should You Choose A Fire Pit
When you live in an apartment or condo, having a log fire is next to impossible. However, a gel-fueled fire pit makes it possible for you to have a "fire" on your patio. They're also ideal for patios, porches, decks, gazebos and balconies due to their "no mess, no fuss" feature. They are a great way to have a fire whenever you want.
So, sit back, have a cook-out, roast some marshmallows and gab around the fire pit. Or, just make it a romantic night out, extending those warmer months just a little longer.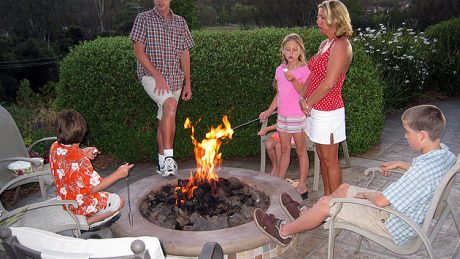 Fire pits or fire ring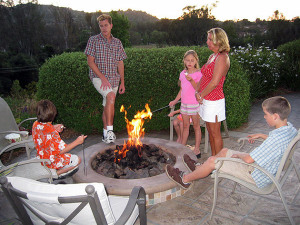 s have a long history in San Diego. Who hasn't gathered with close friends around a San Diego fire pit on a beach at night? They are becoming very popular as part of your home too landscaping too and there are a number of designs from which to choose and many means to produce the best fire pit for your yard. Some property owners are even combining a water function and fire pit in one.
Adding a fire pit as part of your landscaping will certainly extend the satisfaction of your yard for you and your guests. They supply heat, light, a cooking source, and ambiance, making them a natural event spot for socializing, amusing, and relaxation. People are drawn to the campfire-like atmosphere, and before you know it, there will certainly be story-telling and laughter.
A fire pit can likewise work as a vital centerpiece in your outdoor landscape design. When positioned where it can be quickly seen from your interior living space, it can provide pleasure inside as well.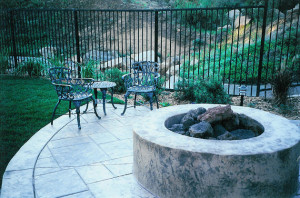 There are many alternatives when it pertains to the size, shape and design of a fire pit. You can have a built-in fire pit set, or you can buy a portable one that can be moved about your backyard. If going with a built-in fire pit, you'll be able to choose from a range of outdoor finishing products including concrete, stone and brick. And remember, fire pits do not need to be round-they can be square, L-shaped, triangular, or an entirely customized shape.
Kinds of San Diego Fire Pits
Outdoor Fire Bowls
Commonly made of precast concrete, fire bowls are smooth rounded pieces. They are a good middle alternative between a built-in fire pit and a portable fire pit. Fire bowls look fantastic in modern gardens and can be available in sizes little enough to show on a table or atop a pillar, as well as sizes huge enough to function as an event area.
Fire bowls can be designed to burn wood or gas. A fire bowl can be filled with lava rock, colored fireglass, or other kind of fire-retardant ornamental filler. You can buy a pre-made concrete fire bowl or have one made custom-made for your yard. If you decide to have a custom bowl made you will likely spend more, but you will certainly have more size, shape and color alternatives. Talk to a San Diego landscape designer about your alternatives for a fire bowl.
Fire Table Designs
A fire table does double duty as a source of warmth and a place to dine. Fire tables feature a wide rim and can be coffee table height or table height. A cover can be set over the opening to transform the pit into a totally working table when not in use.
Outdoor Fire Hearths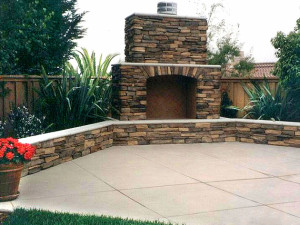 Consider a fire hearth as a cross in between a fire pit and a fireplace. Much like a fireplace, a fire hearth will provide a focal point and anchor for your lawn or patio.
A fire hearth is used only from one side. Fire hearths develop an intimate setting and are well matched for just a couple of people. A large group would have a tough time collecting round.
A fire hearth is a fantastic method to obtain the look of a fireplace but without the high expense and permit concerns. Fire hearths are generally sustained with gas or propane so that there are no safety concerns due to smoke or stimulates.
Gas Fire Pits
Gas has ended up being an exceptionally popular option for fire pits because of its convenience and security. With a gas fueled fire pit, you can have a good fire going in no time and without hassle. A natural gas fire pit can be lit with the turn of a button or the flip of a switch.
Prior to building a natural gas fire pit, a gas line will need to be installed in the prepared area. If you wish to set up a gas fire pit on an existing outdoor patio this step will certainly prove more difficult. Ask your landscape designer or service provider what the very best option for your situation is.
Propane Fire Pits
A propane fire pit runs of a liquid propane tank. Generally propane fire pits are prefab devices that have actually a base designed for saving the tank. The propane tank is quickly accessed by means of a door or drawer. Lighting a propane fire pit is as easy as lighting a bbq– just turn a nob to stir up the flames. The burner, or gas ring, can be disguised with fake logs, lava rock or colored fireglass. A propane fire pit is an excellent option for someone with an existing outdoor patio who does not wish to bother with running a gas line.
#Fire pits# has been widely written about over the internet. We tried to collect some really authentic facts about #fire pits#, to help you with genuine information on it. In case you would like more information on #fire pits#, take a look at our other articles on the topic too.
Related articles across the web