Open up your home and expand your space with an outdoor kitchen, allowing you to relax in the sun with all of your home comforts around you. Spend the entire day outside and cook something delicious while entertaining friends. By building your own outdoor kitchen, you can cook for family and friends during the summer, without missing out on any of the fun.
Creating your dream outdoor kitchen with San Diego Landcare Systems is easy, with a large range of choice in design possibilities, materials, and features. One of our skilled outdoor kitchen contractors will guide you through the process, helping you choose the exact specifications that suit your needs, from storage to appliances and layout.
Outdoor Kitchen Design and Layout
All of our outdoor kitchens San Diego are built to be able to withstand all types of weather and conditions, so the design of your new space does not need to be restricted by the elements. With this in mind, we can help you to use your imagination and find the best layout and look to enhance your outdoor gatherings.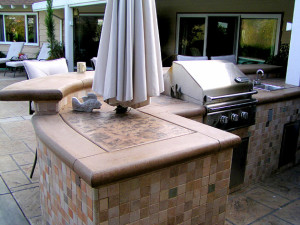 In terms of design, you can think of an outdoor kitchen in the same way that you would when fitting a new indoor kitchen. It is recommended that you try to group different areas together as you would when designing the kitchen in your home. For example, cooking and hot appliances will be installed in one part – this includes things that you may want to add, such as grills, BBQ's, and pizza ovens. Cold areas will include appliances such as refrigerators while wet and dry sections will also be grouped together, with basins separate to work spaces, counters and storage areas.
As you are outdoors, the kitchen facilities and countertops will serve as the boundaries of your new outdoor kitchen, rather than the walls you would have inside. This allows you to choose the size and shape of your outdoor kitchen, which our contractors will build from scratch to suit your desires.
You can create your ideal space for social gatherings, incorporating open wood flames for cooking, heating, and seating areas into your design. Add bars to your outdoor kitchen space for an enhanced entertaining experience, allowing you to stock your favorite drinks and keep them cool, serving anything from water and coffee to champagne or mixed cocktails.
Bringing the Indoors Out
An outdoor kitchen has the same functionality and capabilities as your indoor space, enabling you to make your favorite dishes while entertaining outside in the sun during the summer. Create a smooth, flowing look by continuing the look you have within your home throughout the design of your outdoor kitchen. Use similar, compatible materials to complement the design of your home, both indoors and out.
Ambiance and comfort are also important for outdoor kitchens San Diego, to ensure you can enjoy spending time in your new space, as well as the practical aspects of the design. This can be achieved with extra heaters, fans, and sufficient lighting. Invest in a canopy or pergola that will cover your outdoor kitchen and entertaining areas in the evenings, which will also provide shade during the daytime as you prepare meals. You will also need to make sure there is ventilation for any type of grill, BBQ and open flame, fireplace or fire pit. This is for safety as well as comfort while you are cooking and prolongs the amount of time you spent outside.
The appliances you choose must be suitable for outside use and be reliable, to ensure a low maintenance space. Materials such as stainless steel and ceramic work well for use in an outdoor kitchen, as they are durable and appealing. Remember to include adequate storage so that you can easily access anything you need, just as you would in your inside kitchen. We will help you add any suitable storage.
Outdoor Kitchens San Diego
San Diego Landcare Systems have over thirty-five years of experience, passing on our knowledge and skill to all of our contractors. This means we can offer you the very best service to ensure your outdoor kitchen is exactly what you have imagined. We pride ourselves on providing a high standard of customer satisfaction, trust, and appreciation.
We are Design & Build Landscape Contractors who specialize in building the backyards of your dreams. We have built hundreds of outdoor kitchens San Diego and BBQ's from the smallest yard to the largest estates. Get the best use of your space with an outdoor kitchen from San Diego Landcare Systems.
Saturday, 20 December 2014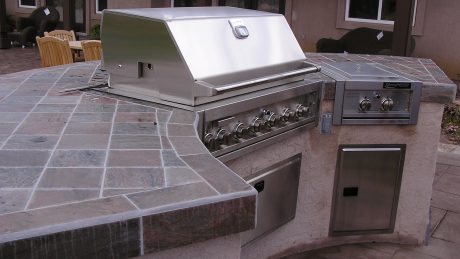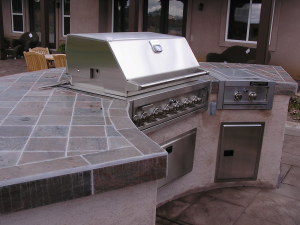 There is nothing quite like gathering outdoors with friends and family around a backyard grill or  BBQ pit.  Whether it is the aroma of steaks on the grill or a slab of ribs smoking in the BBQ, cooking outdoors can be a lot of fun. and really add to your overall San Diego outdoor living experience. Why not enhance the experience with a custom made BBQ island?  A San Diego landscape designer can design and build one that is not only a perfect fit for your yard, but also one that meets all your requirements for cooking, entertainment and storage.
We have come a long way from the old charcoal barbecue grills of yesterday. Today's grills run on  Liquid Propane (LP) and Natural Gas (NG)., but if you still prefer charcoal you can create that alternative on your  BBQ island as an add-on option or as the main fuel source.  Today's grills have side burners, storage area's, deep fryer's, sear zone's, rotisseries, and smoker boxes too.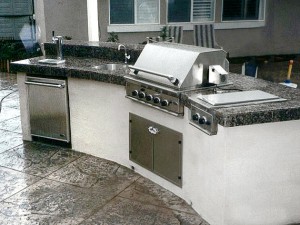 Your BBQ island can be a main focal point for gatherings in your backyard.  It should be designed to reduce trips to the kitchen and to allow the cook to face or be near the guests.  You may want to add a cooler or refrigerator, and a sink to your island so that everything you need for your BBQ island is right there.
BBQ Island Design San Diego
San Diego Landcare Systems in Ramona can design and build any style BBQ Island you can imagine. We can combine your BBQ Island with options of concrete, granite, stone, as well as many different accessories to further customize your outdoor entertaining and cooking needs.  We can match it with the design of your current backyard or include your BBQ island in an entirely new grand design. If you are considering a custom outdoor BBQ Island for your home in San Diego or the surrounding area, give us a call today!
Related articles across the web