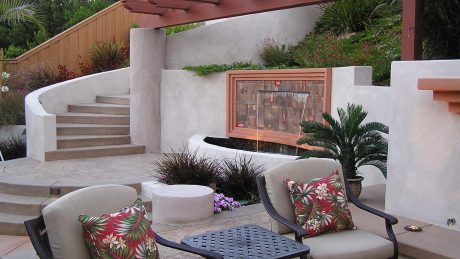 For those who have a little extra room outside, you might be considering creating an outdoor living space and this would be a good move. In the summer, you would be allowed more room for gatherings and it allows you to make more of your home. Furthermore, it will add charm and value to your home. In truth, it opens up many doors for you and your family/friends.
Of course, the amount that you can do with your outdoor living space will completely depend on what space you have available. Whilst some might be confined to a small, flat area, others may have the luxury of spreading the living room over many different levels. For example, a deck could lead from the house which then leads to a patio area. When many people consider an outdoor living space, they soon put the idea to bed because they restrict themselves in their imagination.
Ultimately, the space belongs to you so you can do whatever you wish with it. If you allow yourself to get really involved, this can be a fun and creative process as you turn an old, unused space into a gathering area for events. Whether you wish to install a fireplace with some comfortable furniture or maybe even a second kitchen with an opportunity to cook with the grill and make space for a fridge, the opportunity is available.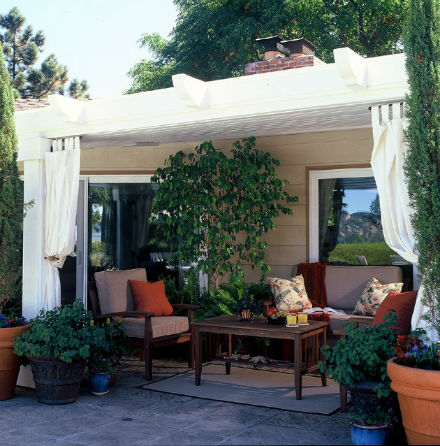 Nowadays, there are many options for weather-resistant furniture including easy chairs, sofas, and lounge chairs. As well as this, you could even install seat walls and benches to provide an attractive element in addition to the functionality of the item. If you are clever, you could even use the furniture to provide more storage.
Once you have this base, you can start to introduce various amenities such as a TV, radio, reading chair, mini-fridge, lamp, laptop, etc. For the slightly colder months, why not consider an outdoor fireplace as we suggested a little earlier? Often, there is a misconception that comes with these types of fireplaces that they have to run on gas but you can also find wood-burning models too. If you don't have room for a full fireplace, you could also look into tabletop fireplaces or fire pits.
Regardless of what accessories you choose, always pay attention to what's beneath you because the decking can often make or break an outdoor living room. When looking at flooring, be sure to consider whether your space will be covered or uncovered as this will greatly affect your decision. After this, you can assess your budget, style, quality, and the maintenance required to find the right flooring. Before jumping into a decision, consider ceramic, red cedar, vinyl, composite, plastic, and wood. When you dig a little deeper, you will find a whole host of styles, sizes, and colours to meet your needs and create an outdoor living space you can be proud of!