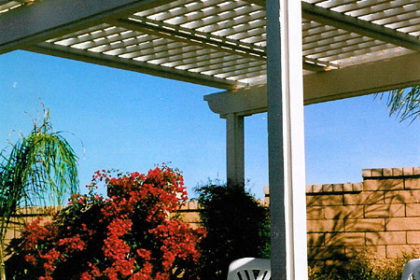 Pergolas and patio covers plus other shade structures are the perfect way of enjoying the outdoors even when the conditions outside are less than appealing. In the heat of summer, you can relax and entertain outdoors without being overwhelmed by the beating sun. Shade structures also extend the season through fall and winter. If your structure is built with a solid roof or even insulated sides, you can enjoy a peaceful winter morning sipping tea, untouched by rain or snow.
Pergolas and other types of shade structure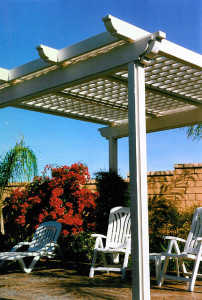 Pergolas are a freestanding structure usually placed within the landscape. They can cover a pathway and define the walking space, or can cover a patio or entertaining space outdoors. A pergola usually has open sides, and either a slatted or solid roof.
Patio covers are similar to pergolas, except they are attached to the house. This can be an advantage, because the patio cover can use the home for support and thus may cost less to build than a freestanding structure.
Gazebos are an eight-sided structure with a solid roof, most commonly used in traditional garden styles like English or French. Gazebos have gotten a bad name since so many of them have been built from cheap kits and placed poorly within the landscape, yet they can be an attractive addition if the style of the surrounding landscape works with the structure.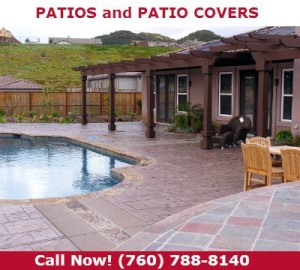 Shade sails are a modern way of gaining relief from the sun. Fabric is stretched across specially-engineered poles to accent and cover a seating area or patio. Shade sails look great with the straight lines and simple geometry seen on contemporary homes, and do double duty as a decorative and artistic part of the landscape.
Screened porches are built directly onto your house, usually off the back door for easy access. Instead of glass windows, they have large screens that protect from insects. Screened porches are great for dining, since you get the experience of being outdoors without having yellow jackets landing on your burger.
Read more about pergolas and patio covers at Landscapingnetwork.com