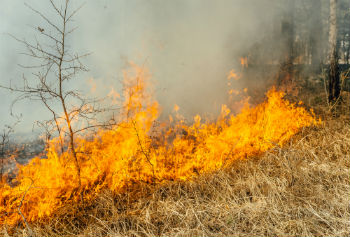 When looking back at the recent destructive fires in the Western U.S., a number of homes were saved as a result of the owners' careful pruning and fire-safe landscaping techniques that protected their homes.
What You Can Do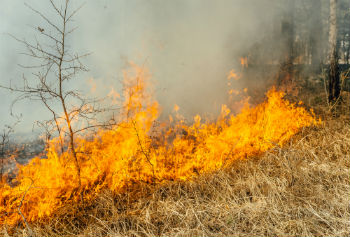 The first priority is to clean up the dead trees and shrubs surrounding your home that are pure fuel for fire. Removing flammable vegetation reduces the threat of fire.
Take out the "ladder fuels"– vegetation that serves as a link between grass and treetops. It can carry fire to a structure or from a structure to vegetation.
Maintain a well-pruned and watered landscape to serve as a green belt and protection against fire. Prune all trees up to 6 ft. to 10 ft. from the ground.
You'll want to assess your risk– find out about the fire history in your neighborhood and make sure you're clear about your property's boundaries and contours.
Assess the overall terrain and things like prevailing winds, native vegetation and seasonal weather
Stack firewood at least 30 feet from your home and store flammable materials in metal containers at least 30 feet away from structures and wooden fences.
Always install smoke alarms on every level of your home. Test them monthly and change the batteries at least once a year. Consider installing the new long-life smoke alarms.
Choose Plants for Fire-Safe Landscaping
All sorts of factors go into determining which plants are appropriate for a fire-safe landscape: things like how much water and salt they retain (which is good) or if they contain a lot of aromatic oils or tend to drop a lot of matter (not so good).
You'll want to use the zone concept. Zone 1 is closest to the structure; Zones 2-4 move progressively further away.
Zone 1. This well-irrigated area encircles the structure for at least 30 feet on all sides, providing space for fire suppression equipment in the event of an emergency. Plantings should be limited to carefully spaced fire-resistant species.
Zone 2. Fire-resistant plant materials should be used here. Plants should be low-growing, and the irrigation system should extend into this section.
Zone 3. Place low-growing plants and well-spaced trees in this area, remembering to keep the volume of vegetation (fuel) low.
Zone 4. This furthest zone from the structure is a natural area. Think selectively here, and remove highly flammable vegetation.
Planting Techniques
Eliminate small trees and plants growing under trees. They allow ground fires to jump into tree crowns.
Space trees 30 feet apart and prune to a height of 8 to 10 feet
Place shrubs at least 20 feet from any structures and prune regularly.
Plant the most drought-tolerant vegetation within three feet of your home and adjacent to structures to prevent ignition.
Provide at least a 10- to 15-foot separation between islands of shrubs and plant groups to effectively break-up continuity of vegetation.
Landscape your property with fire-resistant plants and vegetation to prevent fire from spreading quickly.
For more information about fire-safe landscaping, contact the United States Fire Administration: www.firewise.org or visit usfa.fema.gov
Related articles across the web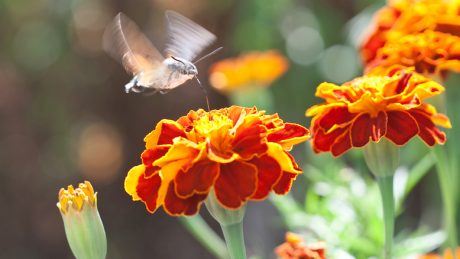 Want to attract wildlife and birds to your backyard?  If you build it they will come. Plan your landscaping Create a Urban Habitat for Birds using native plantings and you will attract butterflies and bees, which will then attract birds and more. If you enjoy the sounds of birds chirping and bees buzzing read this.
California Gardeners Create Urban Habitat for Birds and Wildlife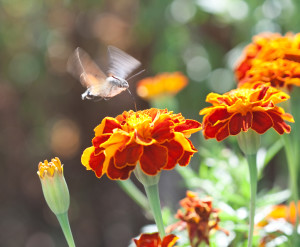 by Ruthanne Johnson
When an acquaintance told Steve Hartman he was thinking of replacing his lawn with AstroTurf to conserve water, the wildlife gardener was appalled. For nearly 30 years, Hartman has cultivated native plants on his Sherman Oaks property in Southern California—and observed with pleasure the resulting throng of fluttering, flapping, cheeping, buzzing, and rustling animals. "I've always felt that my wife and I are in one way planting these plants for ourselves but also for the habitat value that they provide," he says.
Aesthetically pleasing, low-maintenance options are much sought-after in dry regions. But that doesn't have to mean plastering the earth with synthetic materials that have zero wildlife value. Native plants adapted to drought conditions fill that niche beautifully in Hartman's garden, which attracts many admiring second glances from passersby. "I always feel like I want to go out there and tell them about the yard," says Hartman, a longtime board member for the California Native Plant Society. Instead, he made a sign: "California Native Plants. No Water. No Snails. No Fertilizer."
Plant and They Will Come:
Plants in the Mediterranean-like climate can look dry and scrappy, so landscape designer Rob Moore adds to the mix cultivars, evergreens, and good design principles. After discovering natives, Moore experimented in a raised bed in his Orange County front yard. "I started removing the nonnatives and plugging in native groupings and rocks and snags and dead wood … and that's where the critters started coming in." To avoid complaints about the unconventional look, he replaced vegetation slowly and selectively pruned. "Most people didn't even notice."
Continue this story about Urban Habitat at All Animals magazine