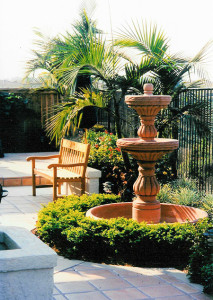 Mediterranean landscape design is best for California's climate and way of life.
We identify a Mediterranean climate as one with dry moderate temperature in summers and cool, however not freezing, wet winter seasons. It's a 2 season climate. The Mediterranean climates are near large bodies of water, such as the Mediterranean sea, which is the dictator of land climate. The sea or ocean keeps land temperatures from freezing in the winter and from getting too hot in the summertime.
Elements of Mediterranean Landscape Design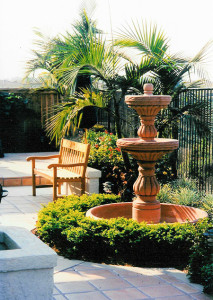 Mediterranean gardens are best understood for their casual elegance. Inspired by the seaside locations of Spain, Italy and France, Mediterranean landscape design combines informal drought-tolerant plants with formal accents and designs. Terra cotta pots, tiered fountains, shade and shelter, ;local stone, statuary, and bocce ball courts are all hallmarks of Mediterranean gardens. The plant palette of a Mediterranean landscape is made of plants that supply texture, color and structure – think, olive trees, herbs, lavender, cypress trees and ornamental yards.
Native plants can also be a water-wise addition to a Mediterranean landscape design. The key is in selecting natives that are well-adapted to your area and can naturalize easily in your garden. California poppy, monkeyflower (Mimulus), and leopard lily (Lilium pardalinum) shine with this garden theme.
A Mediterranean inspired landscape design will deliver you to another world each time you march outside your door. The smell of the fragrant herbs, the gentle sounds of trickling water and the warm color of terra cotta will certainly make you want to sit and enjoy a glass of wine. All that you may be missing is a view of the sparkling blue ocean.
Icons of the Mediterranean Landscape Design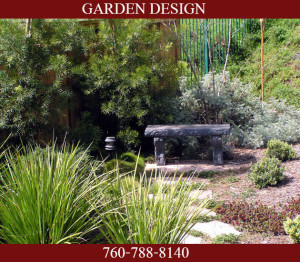 Because of the ideal environment, individuals of the Mediterranean have lead an outdoor living lifestyle. For hundreds of years they have been gardening, interacting socially and dining outdoors. Three icons of Mediterranean landscape design are: bocce ball courts, tiered fountains and herb gardens.
Bocce ball is an Italian game that goes back to the Roman Empire. Much like lawn bowling, the object is to get your ball closest to the jack. The game is played on a long slim court with 2, 4, 6 or 8 players.
Tiered fountains can be found in almost every European yard and plaza. Rome's Trevi fountain is probably the most famous in the world. Tiered garden fountains might be relatively basic or covered with detailed carvings and statuaries.
Herb gardens are exceptionally popular worldwide. Throughout the middle ages age, monks and nuns living near the Mediterranean became specialists at growing herbs to make use of for both cooking and medical functions. Today this practice has actually ended up being common for individual households. Having an herb garden permits you to quickly add the fresh tastes of French and Italian cooking to your meals. Find out more about food gardens.
Obviously, it is not crucial to use all these elements in a Mediterranean landscape design, but knowing what they are can help you use age old principles while still being able to customize your outdoor living space.