Vista Landscape Design Contractor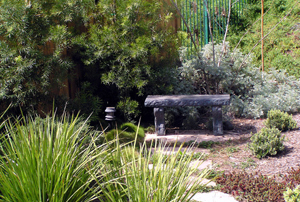 Your home is an extremely important part of your life and that of your family, so making sure that it's always in the best condition possible—both inside and out—is a major priority. At San Diego Landcare Systems, Inc., we know that your home is important to you, and we know that your landscape is a very important part of your home, so at every job, we strive to keep your lawn, garden, and landscape in the best condition possible at all times. When you need simple or in-depth Vista landscape design services, hardscaping services, or irrigation systems, our professionals landscapers will always be ready and eager to provide you high quality workmanship.
We've been providing our services to homeowners in Vista and the surrounding areas for over 35 years, and in that time we've developed a reputation as the most trusted and reliable landscaping contractors in the area. When you hire us, we'll work with you directly on the design of your new landscaping project, and we'll do whatever it takes to guarantee your complete satisfaction with all of the work that we provide.
Call us today to to ask any questions you have about our services, or to schedule your appointment.
Landscape Design Services in Vista
At San Diego Landcare Systems, Inc., our solitary goal is to help our clients create the landscapes they've dreamed of.
We begin all of our landscape design projects by discussing with our clients what they'd like to achieve with the project. Then, we develop a design based on those goals, ensuring that the new landscape is perfect for their Vista home, their time-frame, and their budget.
Although we may be landscaping experts, we recognize that you're the only expert there is when it comes to your home and your landscape, so we provide our professional advice, but we always leave the final decisions up to you. We guarantee that your landscape will be comfortable and attractive, and we'll be available for any maintenance work you may need in the future.
Vista Outdoor Kitchens
Outdoor kitchens in Vista can be a great addition to any home in Vista. There's no better way to take full advantage of the great weather we have in the area, and our professional landscapers can help you design and build the perfect outdoor kitchen for your home.
Whether you're looking to create a simple outdoor kitchen with nothing more than a grill and some counter space or you'd like a full-service kitchen complete with food storage, ovens, and water and gas lines, our professionals can tackle the job. We can also match ricks, pavement, and other elements of your architecture to help guarantee that your new outdoor is an integral extension of your home aesthetically.
If you're looking for a landscaping company in Vista, call San Diego Landcare Systems, Inc. at 760-788-8140, or fill out our online request form.