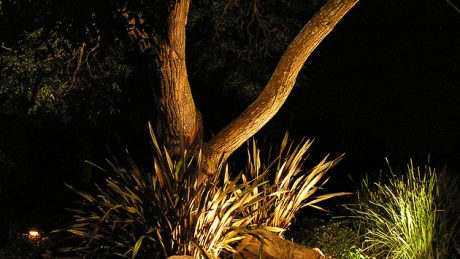 Outdoor lights are not only essential, but they can also transform your yard into a summer oasis where the whole family can kick back and relax. There are no rules when it comes to outdoor lighting; mix-and-match all the options below to create your own magical nighttime haven.
Candles are a surefire way to create a romantic, intimate ambiance. They're the easiest to set up and add instant charm. And, let's be honest, everyone looks good in candlelight. Be careful of open flames however, because the last thing you want on the menu at your barbecue or romantic dinner is the porch furniture. Also, keep in mind that candles are only a temporary form of lighting — they can burn out and need replacing even before the evening's over.
The best part about these battery-powered candles is that you can't see the "flame" because it's designed to look like it melted the same way a wax candle does!
Designed in a similar fashion to the candles above, these candles are also battery-powered, but with a smooth, waxy appearance. Not only do they come in sets of three, but they also come with a remote so you can "blow the flames out" from a distance.
For more festive lighting, choose Colored Paper Lanterns. String them up in a line or clusters, or stack them on poles to create light columns that give the area height. Paper lanterns are available in lots of different shapes and sizes, allowing you to use your own creative flair to personalize your outdoor area. Also consider glass lanterns, which although more expensive, can last through many summer seasons.
These paper lanterns are environmental friendly and come in a variety of colors, so you can match them to the rest of your outdoor decor.
Read more about best Outdoor Lighting at goodhousekeeping.com