ARE YOU LOOKING FOR A LANDSCAPE DESIGN SERVICE IN SPRING VALLEY, CA?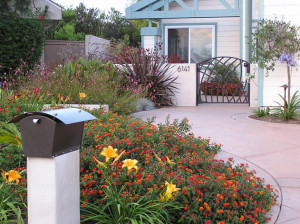 With over 35 years of experience providing the Spring Valley area with only the best quality landscape design and landscaping service, we offer services that our competition just cannot match. WE are able to create stylish back and front yards alike, and are familiar with all of the current design trends, enabling us to find the perfect look that works for you and your home. One of the most important parts of having a great looking home is a landscape to match, and we have a commitment to providing the Spring Valley area with our award winning work. Designing a landscape is an intensive process, so let us shoulder the burden of this work.
When you call on our experienced designers, you will get our full-commitment to providing you with the best results and top-quality customer service. We will walk with you every step of the design process, ensuring that you are getting exactly what you want, while making suggestions that could potentially compliment the vision that you have in mind. When you're ready to have your landscape looking the best it ever has, give the landscape design professionals at San Diego Landcare Systems Inc. a call today for your a consultation.
Spring Valley Landscape Designs
When you get the service of our landscape design experts they will be able to work with any kind of design that you might have in mind, or help you decide on a look that's perfect for your yard. We have the experience necessary to style to any landscaping trend and make any look you might have in mind a reality for your yard. If there's a look you have in mind we will be able to help create a version tailored to your tastes and the needs of your own yard. We make certain to use the best quality building materials and will work with you every step of the way to make certain that you are being provided with the results that you want. There are no landscaping designs that we cannot handle, and with over 35 years of area experience, we will be able to produce results that set us apart from the competition. When you're ready to experience a new landscape design, give us a call!
Spring Valley Outdoor Kitchens
If you regularly host events at your house, your new outdoor kitchen is sure to be the talk of your next social event. Outdoor kitchens are an excellent choice if you want to enjoy your yard in a new way. Your new outdoor kitchen will have you looking forward to the opportunity to cook and enjoy your next meal.
The professional designers at San Diego Landcare Systems Inc. will work with you to find the perfect outdoor kitchen that compliments the design of the rest of your yard. We use only the highest quality materials and are sure we can find the perfect outdoor kitchen for your needs, building you a long-lasting and valuable addition to your yard.
If you are looking for a Spring Valley landscaping company, give us a call at 760-788-8140 or complete our online request form.