Serra Mesa Landscape Design Contractor
Your home is most likely one of the biggest and most important investments that you're going to make in your life, so keeping it in great condition, both inside and out, is a huge priority to you. The professional landscapers at San Diego Landcare Systems, Inc.understand how important your home is to you, and how important your landscape is to your home, so we always strive to make sure that your lawn, garden, and landscape are always in the best shape possible. Whether you need fertilization, irrigation, or in-depth Sierra Mesa landscape design and hardscaping, our professionals will always be ready to provide you with the highest quality workmanship possible.
We've been working with homeowners in the Serra Mesa area for more than 35 years, and we've become well-known as the most trusted and reliable landscapers in the area. We work with each of our clients directly to design their landscaping projects, so we can always guarantee their complete satisfaction with the final outcome of the project.
Call us today to schedule your appointment, or to ask any questions you have about the services we provide.
Landscape Design Services in Serra Mesa
Our goal at San Diego Landcare Systems, Inc. is to help our clients create the landscapes of their dreams.
We start every landscaping project by discussing the specific goals our clients would like to achieve. We then work on the landscape design, which we base on their specifications. We make sure that the new landscape is perfect for their Serra Mesa home, their budget, and their time-frame.
We know that while we may be expert landscapers, you're the only expert there is when it comes to your home, so we'll give you our professional advice and opinions, but we'll leave all final decisions up to you. We'll always do whatever it takes to ensure that your landscape is as comfortable and attractive, and we're available for any landscape maintenance services you may need after the job is done.
Serra Mesa Outdoor Kitchens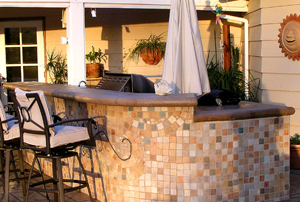 An outdoor kitchen is the perfect addition to any home in Serra Mesa. Outdoor kitchens can let you take full advantage of the mostly pleasant weather we have in the area, and our professionals can help you create the perfect Serra Mesa outdoor kitchen for your home.
We'll match bricks, pavement, and other elements of your architecture to help guarantee that your new outdoor is an integral extension of your home aesthetically. We'll also make sure that your new outdoor kitchen has all of the amenities that you need, whether it's a simple grill with counter-top space or a full service kitchen complete with food storage, ovens, and water and gas lines. No matter what features you'd like to include, we can guarantee your complete satisfaction with the new space.
If you're looking for a landscaping company in Serra Mesa, call San Diego Landcare Systems, Inc.at 760-788-8140, or fill out our online request form.