Santee, CA Landscape Design & Build Services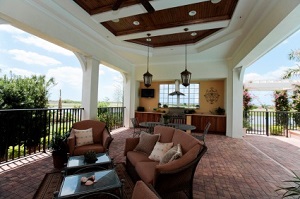 Santee is a suburban city of San Diego in San Diego County, California, with a population of 53,413 at the 2010 census. Although it is a part of the East County region, Santee is located just 18 miles from the Pacific Ocean.
The Pacific Ocean lies only 18 miles from Santee, and the San Diego River runs through it. A greenbelt runs along the river area that provides parks, trails, and many outdoor activities on 1,100 acres of natural land.
The San Diego Union-Tribune editorial posted an article entitled, "All Roads Lead to Santee".*
If you live in Santee and have considered making your landscape into something more beautiful and functional, you may be interested in our design and build landscaping services.
Landscapers in Santee
Custom landscaping is done by professional companies that either provide full service or can only offer you limited assistance or maintenance. If you are interested in creating something phenomenal and sophisticated for you and your family, San Diego Landcare Systems, Inc. are your local landscaping experts.
Here are a few of the services we provide:
Outdoor kitchens
Concrete, brick, tile & flagstone patios
Fountains & water features
Gated entryways
Interlocking paving & retaining walls
Irrigation
Outdoor fireplaces
Outdoor rooms
Patio covers
Decks
Landscape lighting
Fertilization
Design service
Outdoor Kitchens in Santee
Cooking outside is something that is very enjoyable when the weather is nice, and in our area that is just about year round. You can have just a small area to barbecue or a fully equipped outdoor kitchen. Each family has different needs that depend on what they want to do with their space.
For instance, if you love fishing, you might want to be sure to have an outdoor sink area where you can wash and clean fish. You might want to have a fish fry area added on so you can not only grill but also fry.
Or perhaps your tastes lie in enjoying a freshly baked pizza you cooked up for your family in the outdoor pizza oven. Whatever you can imagine for your outdoor kitchen space, we can design and build for you from ground up.
Outdoor Fireplaces in Santee
Fireplaces area wonderful way to enjoy some warmth on cool evenings. With an outdoor fireplace, you can have room for family and friends to gather. Why not add a two-way fireplace that you can enjoy from your sun-room and outside patio area? With two-way fireplaces, you can shut off either room with a fireplace glass insert that opens and closes at will. Many homes have this type of fireplace in their homes, but why not share one with your enclosed patio and sun-room?
Just about anything you can imagine and want, we can design and build for your outdoor space. Let your imagination run wild! Maybe you want a romantic lounging area built nearby your swimming pool. Imagine a date-night with your spouse where you're enjoying your home in a new way.
A little soft music, candles floating in the pool, fire blazing in your outdoor fireplace, a little dip in your heated pool, a nice glass of wine, and dinner cooked just a few feet away in your outdoor kitchen…what could be better?
*Sources: http://en.wikipedia.org/wiki/Santee,_California
Santee Reviews
[rich_testimonials]
Recent Articles
[footbridge_recent_articles]
If you are looking for a Santee Landscaping company, please call 760-788-8140 or complete our online request form.