Looking For A Great Landscape Contractor in Rancho Santa Fe, CA?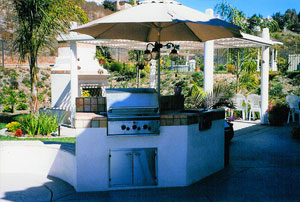 Do you want to find a Rancho Santa Fe landscape contractor that's experienced and can do installations of all types? San Diego Landcare Systems can install your new outdoor lighting just the way that you want them to. Outdoor lighting can make all the difference to your outdoors. Call us for an appointment.
Rancho Santa Fe Gated Entryways
A gated entryway is not just for the rich, it's for anyone that's looking for more security around their home. When you have more security built-up around your house, then it makes it almost impossible for thieves and wannabee robbers to get in.
A gated entryway can also increase the value of your home. If you would ever go to sell it, then it's going to be worth a lot more because of the addition. You'll also be adding more beauty to it. Your home will get lots of attentions from your neighbors & family.
If this sounds like something that you're looking for, then go for it. Contact the building professionals. We'll have you safer and your home looking even better than it ever has before.
Rancho Santa Fe Outdoor Kitchens
Who wouldn't want an outdoor kitchen as opposed to an indoor one? Indoor kitchen can tend to be stuffy and not easy to maneuver in. If you have a small kitchen, then you may want to consider moving it to the outdoors.
Outdoor kitchens have a lot of needed space. If that's one thing that you've been lacking, then your outdoor area is where it's at. Just think of how much fun you're going to have with an outdoor kitchen. It's just like grilling, but much better.
You can entertain, have personal dinners between only you & your spouse or celebrate your child's birthday. Parties are much better outdoors are there is a lot more space and more room to walk around in. Don't miss out on yours. Contact your Rancho Santa Fe landscape contractor about your kitchen.
Rancho Santa Fe Landscape Lighting
Do you wonder what it would be like to have outdoor lighting sometimes? If you focus on safety as being one of your main concerns, then you're going to really appreciate your new outdoor lighting. You'll be able to walk around outside without the fear of tripping over something.
Your choice Rancho Santa Fe landscape contractor from San Diego Landcare Systems can bring more safety to your outdoor area. Now your children can play outdoors without you worrying about them getting hurt.
[footbridge_recent_articles]
San Diego Landcare Systems is Rated:5 /5
based on these 1 happy customer reviews.
---
"We wish to express our appreciation for the wonderful and professional work that you and your crew have accomplished in the past few months. I could not have asked for a better company to work with than SDLS!"

– Mr. Jim & Marie C. Rancho Santa Fe, CA | Rated:3 /3
---
If you are looking for a Rancho Santa Fe Landscaping company, please call 760-788-8140 or complete our online request form.