Seeking a Reputable Landscape Contractor in Rancho Penasquitos, CA?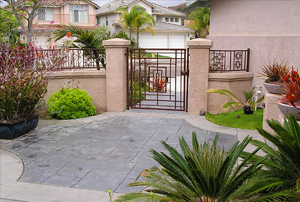 Are you looking to have an outdoor kitchen installed at your home? Contact your Rancho Penasquitos landscape contractor at San Diego Landcare Systems. Our landscapers will have your kitchen in and you using it before the start of summer this year. You can always depend on the quality of your kitchen when you come to us.
Rancho Penasquitos Gated Entryways
There aren't many landscape companies that can construct a gated entryway for you, but we can. Your gated entryway will provide you with an increased sense of security. If you combine your entryway with a security system, your home will be tougher to get into than Ft. Knox.
Just knowing that your children and other family members are safe will make you feel a lot better. Our gated entryways don't look like prison cells, but very decorative outdoor pieces that are functional as well. Your gated entryway will be everything that you want it to be.
Contact us and you'll be very well taken care of. Our builders have the expertise that it takes to get a job like this done. Try our services, you just might like us.
Rancho Penasquitos Outdoor Kitchens
Do you enjoy cooking, but hate being trapped indoors with the smells? Well we have the answer for you. San Diego Landcare Systems can install an outdoor kitchen to your liking. Whatever you need, we can provide it for you.
Some of the things you'll enjoy with an outdoor kitchen:
More space– If you're nothing but knees & elbows in your indoor kitchen, then you'll definitely appreciate your outdoor one even more so. Outdoor kitchens provide lots of room to move around.
Lots more room for utensils -Is your indoor kitchen lacking space? If it is, then get a hold of your Rancho Penasquitos landscape contractor and you'll have a lot more places to add utensils in your backyard kitchen.
Fresh air – Breathe fresh air while you cook. It's never fun to be stuck inside a kitchen that's stuffy. We can take the stuffiness out and the fresh air in.
Rancho Penasquitos Landscape Lighting
Actually when you have landscape lighting installed, you're getting lighting that's functional. Your lighting will not only look good, but you can actually use the backyard in the evenings. You won't have to go inside on those warm summer nights any longer.
A Rancho Penasquitos landscape contractor will spruce up the appearance of your outdoors. If you've been missing your outdoor area, then let our landscape artists bring more life back into it.
[footbridge_recent_articles]
If you are looking for a Rancho Penasquitos Landscaping company, please call 760-788-8140 or complete our online request form.