Reaching Out To A Dependable Landscape Contractor in Rancho Bernardo, CA?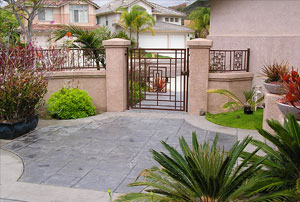 Whenever you want a dependable Rancho Bernardo landscape contractor, you just need to call San Diego Landcare Systems. We are available to install your gated entryway or your outdoor lighting. We make life a lot more convenient. Call us today and schedule an appointment for a free estimate. We'll modernize your outdoors.
Rancho Bernardo Gated Entryways
Why go with a gated entryway? It's a lot easier to get in and out of your home with one. Why get out of the car when you don't have to? All you need to do, to access your entryway, is to punch a code into the keypad.
A gated entryway provides you with more security. When you don't have to get out of your car, there is no chance of your car being stolen. Let San Diego Landcare Systems be the ones who take your ordinary driveway and turn it into a more extravagant one.
Gated entryways take the stress away. Just knowing that your car won't get vandalized or stolen is peace of mind. Call us to ease your worries. Your gated entryway is only a phone call away.
Rancho Bernardo Outdoor Kitchens
An outdoor kitchen can make grilling a family affair. If you missed the family dynamic you once had in your home, then let us bring it back for you. The whole family can interact with an outdoor kitchen. Contact your Rancho Bernardo landscape contractor today.
You'll be able to get the party started this summer in your new outdoor kitchen. An outdoor kitchen looks so good that it's going to be tough to tell your family to go in the house. Making dinner can be so much fun.
Entertaining has never been easier. Your outdoor kitchen will be the area to hang out this year. You don't have to keep going back & forth to the kitchen in order to bring out the food for your party. All of your appliances will be right at your fingertips.
Rancho Bernardo Landscape Lighting
What can outdoor lighting do for your home? For one, outdoor lighting can shed more light onto your walkways. If you fear slip & fall accidents on your property, then you're going to want more lighting. Come to the lighting pros and we'll shed more into your life.
Also, outdoor lighting can act as security lighting. There are probably lots of hiding places around the sides of your home that you're not aware of. Don't fall victim to a burglar just because you didn't have landscape lighting put in.
You can trust that your Rancho Bernardo landscape contractor will have your lighting installed so that there are no more hidden areas outside of your home. Don't give thieves more places to hide. Take care of them with superior lighting.
[footbridge_recent_articles]
If you are looking for a Rancho Bernardo Landscaping company, please call 760-788-8140 or complete our online request form.