Are You Looking For A Landscape Contractor in Ramona, CA?
Do you need the assist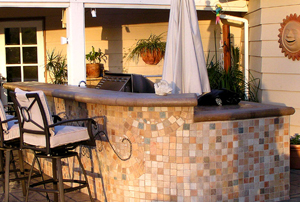 ance of a Ramona landscape contractor to bring you all sorts of outdoor services, then you need to get in contact with San Diego Landcare Systems. For over 30 years, we have been the ones that make the outdoors more beautiful. Call us if you need an outdoor kitchen or a gated entryway. We can build it if you can think it.
Ramona Gated Entryways
A gated entryway will spruce p your home and the security. If your community has been hit with robberies lately, then you'll definitely need to beef up the security around your perimeters. Call us to build your gated entryway.
Benefits of gated entryways:
Curb appeal– Why not bring more attention to your home? You out a lot of money and time into your home and you have every right to show it off. You'll be looking like a Hollywood star with a gated entryway.
Increased safety – If your children need a safe place to play, then a gate would be the answer. Your children can't get out and neither can your beloved pets. Gated entryways serve as an excellent barrier between you and the roadway.
Convenience – You can easily get in & out of your driveway without having to get out of your car. You have control over who gets in and out of your gate. Contact your local Ramona landscape contractor for more details.
Increased home value – Add the the value of your home a lot more when you have a gated entryway built.
Ramona Outdoor Kitchens
Do you love to entertain? If so, then let us build your outdoor kitchen. You're going to love cooking outdoors for many reasons. For one, you aren't going to deal with any long term smells emerging from your indoor kitchen.
Another reason why you're going to adore your outdoor kitchen is that it's going to be a lot more organized than the one you already have indoors. Many indoor kitchens are scattered with pots and pans and other cooking utensils.
Your outdoor kitchen can be used year round. That's a great selling point for these kitchens as they'll last a very long time if maintained properly. Let San Diego Landcare Systems installs yours.
Ramona Landscape Lighting
Are you in need of quality outdoor lighting? If you are, then you might want to start looking into landscape lighting. Landscape lighting also serves as good security lighting. If you're tired of everybody walking through your flower bed, then call us.
What more can a  expert do for you? Call us and you'll see. If you want to spruce up the security around your home, then all you have to do is reach out to our lighting specialists.
[footbridge_recent_articles]
If you are looking for a San Diego Landscaping company, please call 760-788-8140 or complete our online request form.