Low Voltage Outdoor Lighting San Diego CA
Low voltage outdoor lighting is an afterthought for a lot of San Diego homeowners, however expert landscape designers consider it one of the most crucial aspects in the landscape.  In fact, low voltage landscape lighting is probably one of the best landscape lighting ideas and one of the hottest landscaping trends to happen in quite some time.
Outdoor lighting isn't just about safety and security. There's no reason why the curb appeal of your house should be limited to the daytime. That beautiful tree in your yard, the garden you've worked hard to cultivate, the swimming pool you added, and all the other landscape amenities you've fastidiously selected for your house can show their best in the evening with great outdoor landscape lighting.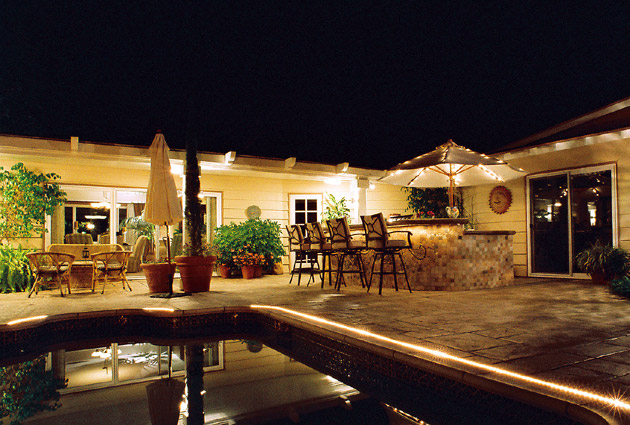 Low Voltage Outdoor Lighting
The electrical current that is running into your house holds a potentially dangerous 120 volts. To create low voltage lighting you'll have to install one or more transformers. This will decrease the voltage of your outdoor landscape lighting to a tame 12 volts. If your electrical wiring gets exposed by inclement weather and from wear and tear to one of the elements, this voltage poses no danger to you, your family or your animals.
The disadvantage to the low voltage outdoor lighting is that light fixtures end up being dimmer the further away they are from the transformer. If this becomes a problem, there are a number of easy options. You can update to a higher-rated transformer or a heavier-gauge cable. You can use several transformers. You can also simply reduce the number or the wattage of your light fixtures. Moving the transformer and/or rearranging the layout of the lighting system can reduce the cable length to each component, minimizing the dimming course. You might likewise consider using the dimming as a deliberate impact. This is popular in path lighting, where each lighting fixture gets more powerful as you move nearer to your house.
Outdoor Landscape Lighting Low Voltage: Design and Installation
Deciding exactly what you want your lighting to do is the initial step when selecting and developing your lighting system. Added benefit and safety entering your home during the night, adding nighttime curb appeal to your home and just creating a charming mood are all common goals for outdoor landscape lighting.
In a new landscape, as soon as you have actually written a landscaping strategy it's easy for an landscape designer to recommend some high-impact places for lighting. A few of the best places will be specific to your particular landscape, but there are a couple of typical places that work well when lit.
Pathways and steps
Decks and patio lights
Home and architecture
Water features
Driveways
Trees
Patio covers and pergolas
LED Landscape Lighting
For a convenient and energy-efficient design, try LED outdoor lighting. With a longer life span than conventional bulbs, LEDs typically last a long time between replacement, so you can simply install and enjoy them for years to come.
Solar Landscape Lighting
Solar lights need no wiring and are the easiest outdoor lights to install.
The Cost of Low Voltage Outdoor Lighting
The lighting design of low voltage outdoor lighting isn't really the only factor for its popularity. The setup of this lighting system is relatively easy and low-cost. Installing the circuitry for any kind of outdoor lighting fixtures is likely to require an electrician or landscaping professional. You may have to pay a couple hundred dollars for standard circuitry setup or much more for a more comprehensive landscape lighting design and setup.
If you are looking for a San Diego Landscaping company, please call
Related articles across the web