IN NEED OF A LA COSTA LANDSCAPING AND LANDSCAPE DESIGN PROFESSIONAL?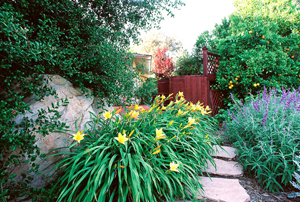 If it is time to add a new look to your yard, then you should consider getting the help of a landscape design professional. A landscaping design professional can make all the difference when it comes to achieving the look that you have had in mind for your yard. They know how to go about creating a design that works with both the shape of your yard and the appeal of your home. Establishing a great looking landscape is not easy, but a professional landscape designer knows how to make that happen.
The design professionals at San Diego Landcare Systems are available to answer any and all of your landscaping needs. We have over 35 years of experience giving the La Costa area top quality landscaping service, and are up-to-date on all of the latest landscape trends. If there's a particular look out there that you have in mind, it is fully within our capability to make it happen. We will help you each step of the way, from selecting the right build materials, to deciding on a final design. Put your landscaping remodel in our capable hands with a call to San Diego Landcare Systems.
La Costa Landscape Design
Our landscape design experts can run with any design that you have in mind. We posses the experience to tackle any landscaping trend and make them a reality for your yard. When there's a specific look that you want, we can help create a version of it tailored for your own yard. We always use the best quality building materials when performing our landscape deigns, and believe that communication is key to producing positive results, so we strive to keep our clients up-to-date on every aspect of the design process. There is no landscape design idea out there that is beyond our capabilities, as our experienced contractors have been providing La Costa, CA with over 35 years of high-quality landscaping design. If you're ready to see the difference that a professional landscaping design artist can make, give San Diego Landcare Systems a call today.
La Costa Outdoor Kitchens
If you love to cook, you will love cooking even more when you can do it outdoors. The inclusion of an outdoor kitchen in your La Costa yard is a great way to boost the value of your home and add some great functional space outside. An outdoor kitchen is perfect for cooking if you regularly host gatherings, and is sure to be an addition that both your family and guests will enjoy. A new outdoor kitchen can have you looking forward to getting home for another chance to cook outside. We have a wide variety of outdoor kitchen designs to choose from and can create one that perfectly complements your landscape design.
La Costa Reviews
[rich_testimonials] [footbridge_recent_articles]
If you are looking for a La Costa Landscaping company, please call 760-788-8140 or complete our online request form.