Creating a Beautiful Garden Design That  Is an Oasis for You
Are you looking for the ideal garden design in San Diego to improve your outdoor environment and enhance your home value?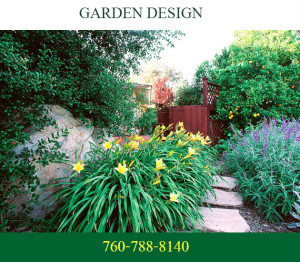 San Diego Landcare Systems, Inc. is an expert landscape design business that can help you take the primary step towards producing the outdoor garden of your dreams.
The plants that surround your home contribute dramatically to your home's value and appearance.  The layout of walkways, gated entryways, sitting areas, water features and outdoor living areas play an overall important role in your garden design.
Good garden design plans also solve problems, you can modify the sun, reduce noise, slow wind, block unsightly views, create a peaceful garden oasis with a bench or water feature, accent a beautiful tree or path with  low voltage outdoor lighting and create lovely vistas with plants.
Our San Diego garden design experts have comprehensive understanding of landscape plants including some of the most common plants and trees used in Southern California. We are specialists in using native or "California Friendly" plants to create sustainable landscape designs that are beautiful and require much less water and maintenance.
Sustainable gardens are designed to be both beautiful and in balance with our local San Diego climate. They are functional, easy to maintain, visually pleasing and environmentally friendly.  The major objectives of sustainable landscape design are to save water and energy, lower waste and decrease runoff. These objectives are achieved by treating water as a resource, placing a high value soil, using drought tolerant plants and conserving material resources.
A good garden design offers a contrast of size, color, shape, rhythm and texture.  Combining plants successfully depends on whether attributes work together to create a balanced look that is in scale with the surroundings.  It is important to work with a landscape designer that knows and understands plants.
San Diego Landcare Systems offers full-service landscape and outdoor living services in San Diego County. Whether you have a small garden or large estate, a small commercial landscape or  a large company site, San Diego Landcare Systems garden design contractors can improve the beauty of your landscape and increase the value of your home.
As design build landscape contractors, we can design and build every aspect of your garden and landscaping.  This includes hardscaping such as patios, retaining walls, pathways and even swimming pools.  In addition to garden construction also design and build outdoor structures such as patio covers, decks, pergolas, outdoor kitchens, outdoor living rooms, gazebos, cabanas, outdoor fireplaces and outdoor fire pits.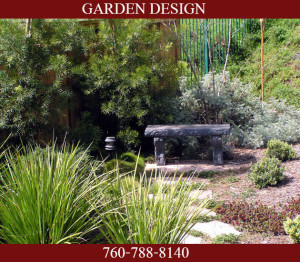 At San Diego Landcare Systems, we make every effort to provide our clients the highest quality services and the very best experience. From the initial assessment to completion we are with you every step of the way.
San Diego Landcare Systems has actually been providing both residential and commercial landscape and outdoor living services for more than 35 years. Our services consist of, however are not restricted to, landscape, hardscape, outdoor living and garden landscape design, landscape installation, irrigation and sprinkler systems, outdoor construction consisting of outdoor kitchens, patios, low voltage outdoor lighting and water features. San Diego Landcare Systems, Inc. can help you to create a plan that not just satisfies your wants and needs but  produces a stunning landscape to take pleasure in for several years to come.
Check out our gallery for great garden design ideas.