Do You Want Quality Landscape Design in Escondido, CA?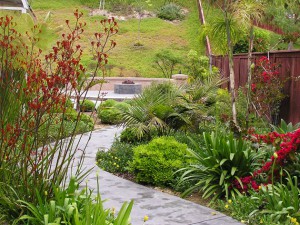 Whenever you want a Escondido landscape design expert, you should look to the pros at San Diego Landcare Systems. You'll be amazed to know all that we are equipped to do. From outdoor kitchens to landscape lighting, there isn't much that we won't & cannot do. Contact us today and let us know how we can improve your outdoors.
Escondido Outdoor Kitchens
If you're wondering what would make your outdoors look better, you may want to think about having an outdoor kitchen installed. We can build you the outdoor kitchen of your dreams at Sand Diego Landcare Systems. Contact us for more details today.
We can construct a fully functional outdoor kitchen for you and your family to enjoy. You'll be using it no not time at all, so call all your family and friends for your next huge shin-dig. You'll be happy that you utilized our service.
We are a successful Escondido landscape design company aimed at pleasing you. When you're in the market for an outdoor kitchen. All you have to do is pick up your phone. We will complete your kitchen at your convenience. Let us know what you want. We'll be happy to give it to you.
Escondido Gated Entryways
Gated entryways are a great way to deter thieves. If your neighborhood has been hit recently, then protect yourselves. Call us today and we can have your gate installed in no time.
Don't wait until your home gets broken in to. Call us and we'll start designing your gated entryway. We can help you with the type of gate that you're looking for and the stone that you want around it.
It doesn't matter what type of entryway that you currently have as our designers can come up with a strategic way of creating your gated entryway around it. We  like new challenges, so call on the outdoor builders that you can trust.
Escondido Landscape Lighting
Are you tired of tripping going up the stairs to your home at night? If you answered "yes" to this question, then you'll want to call us for landscape lighting. You'll find our lighting to be the best. We'll install it for you, so there is absolutely no need to call on any other outdoor contractor. Make the call today and see for yourself.
We want to make you the guarantee that you are really going to appreciate our landscape lighting after it's installed. You'll be able to see much better, and those creepy dark places, around the side of your home, will be well-lit.
When you want an Escondido landscape design expert, just holler for San Diego Landcare Systems. You cannot lose when you go with our talented outdoor services.
If you are looking for a Escondido landscaping company then please call 760-788-8140 or complete our online request form.