Block Walls, Planters and Benches San Diego CA
Block Walls, Planters and Benches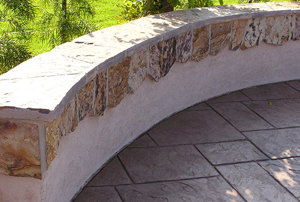 Block walls, planters and benches all provide design elements that make your San Diego landscape unique and inviting.
Block Walls
Retaining walls permit you to control the land, sculpting high slopes into areas of level ground that increase the visual appeal of your yard. Stone and brick are the most common retaining walls products, but concrete block walls offer strength and sturdiness at a fraction of the cost. These specifically designed blocks have a lip on them to bring in stability. You can select from several concrete colors, shapes and structures, consisting of options that bear a striking resemblance to natural stone.
Rich stone color. In-depth stone structure. Organic stone look. All of these aspects combine to produce a wall system so natural, it's tough to differentiate from the real thing. You can construct stunning backyard landscapes, outdoor living areas, retaining walls, outdoor patios, seat walls, staircases, planter walls, water features and more with concrete wall blocks.
Planters
Your landscaping can be fairly fascinating if designed in a series of unique spaces made to seem like a little collection of rooms. An easy way to develop this effect is by using planters.
Planters can be used to confine a garden space or frame a view. They can define paths, direct traffic, bring in contour, used as garden sculpture or become centerpiece to anchor a seating area.
Planters allow you to blend a variety of sculptural plants with strong shapes to draw attention. You can organize plants with different water requirements together to develop a range of textures, shapes and colors for your yard.
Garden Benches San Diego CA
Occasionally all it takes is a little change to make a regular area into something unique in your landscape design. Something as little as a bench can provide all the distinction.
Place a bench in the shade of a tree to invite a cooling rest. Or set out an elaborate bench along a stepping stone path to provide a rest and a location for viewing or enjoying a water feature. Conceal a bench in a wild garden to beckon you into cozy place to check out a book, or make use of a bench to divide one part of the yard from another. A decorative bench can end up being the significant feature– a centerpiece– of the entire garden.
The bench itself can be ornamental or practical. Make sure since it will certainly fit in virtually any circumstance. Rustic benches blend in perfectly with woodland or natural styled landscapes or try a stone bench. A rough-hewn portion of rock can look natural or will blend in perfectly with a modern landscape design.
Larger spaces can manage multiple benches. Locations different from each other can make use of various styles. Benches can bring in design and more– an entire new dimension– to your San Diego landscape.
If you are looking for a San Diego Landscaping company, please call 760-788-8140 or complete our online request form.
Related articles across the web