Poway, CA Landscape Design & Build Services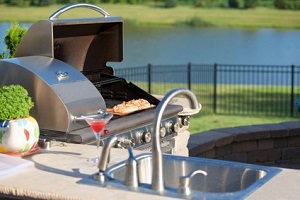 Poway, a city in San Diego County, California was at one time an unincorporated community located in San Diego County. It officially became a city at the end of the year in 1980.
Poway lies north of the city of San Diego and south of Escondido. Nearby are Rancho Bernardo, Sabre Springs, Scripps Ranch, Rancho Penasquitos, and Ramona. The population in Poway was nearly 48K in 2010. The city covers an area of about 39 square miles with .1 square miles of it being water.
Artifacts have been found along the bed of Poway Creek which indicate an early Diegueno presence. Pottery, grinding stones, metates, spear points, and arrow heads are among them. Pictographs were found on many boulders that date back to the 16th century or earlier according to contemporary dating techniques.
American settlers arrived in Poway some time later. Records of the town's history didn't survive until 1894.
In 1980, Poway incorporated, becoming officially the City of Poway. It is nicknamed, "the City in the Country". Poway doesn't rely on agriculture for its primary source of income any longer. It has transitioned into a residential community of commuters in and around San Diego. Since the last census, the population has grown to around 50,500.
Over the last decade, Poway has been designated as a "Tree City", but major portions of the town were evacuated in 2003 and again 2007 when fires overtook the area.
If you live in Poway or are building a home in the area, you may be interested in our design and build landscaping services.
San Diego Landcare Systems, Inc. is located in Ramona and have helped many homeowners design and build landscapes that not only has added resale value to their home but will continue to serve them for years to come. Our services include full service landscaping. We work with you at every step to re-design your outdoor space into something you can be proud of and enjoy.
From paving a sidewalk to an entirely new design, we can handle large scale, diverse yards and habitats as well as any small project you would like to do. Whether you want to add a pizza oven to your existing outdoor kitchen or would like to build an outdoor living space, we have you covered.
Landscapers in Poway
Custom landscaping isn't something that is provided by every landscaper. Since 1978, we have served many homeowners in our area. We are equipped with whatever we need to make your landscape into everything you've ever dreamed of. Outdoor waterfalls, pond gardens you can swim in, whatever you want, we can do.
Here are a few of the services we provide:
Outdoor kitchens
Concrete, brick, tile & flagstone patios
Fountains & water features
Gated entryways
Interlocking paving & retaining walls
Irrigation
Outdoor fireplaces
Outdoor rooms
Patio covers
Decks
Landscape lighting
Fertilization
Design service
Poway Outdoor Rooms
Wouldn't it be nice to have a patio that is enclosed when you want it and opened up whenever you change your mind? There are many options for you when you create an outdoor room. You can choose to have an enclosed, heated pool with hot tub, or just a simple craft-room, just let your imagination go and let your dreams come true.
Poway Reviews
[rich_testimonials]
Recent Articles
[footbridge_recent_articles]
If you are looking for a Poway Landscaping company, please call 760-788-8140 or complete our online request form.