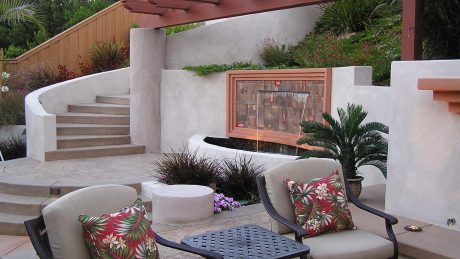 A Outdoor Living Room is now the second only to kitchens in quality renovations
"It used to be you had a Weber grill, a table and chairs and that was it. Now you've got whole kitchens outdoors, fireplaces, even waterproof electronics to extend the season. The outdoor experience has certainly evolved."
It used to be that unless you lived far south of the Mason-Dixon line, you had less than a handful of months — at best — to enjoy your outdoor areas.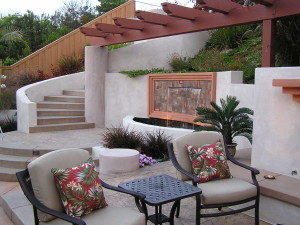 Then came HGTV and Pinterest and we all became inspired to create ahhh-worthy homes and landscapes of our own. The retail market responded with a symphony of innovative products that help us stretch out the seasons, making it more worthwhile than ever to create a backyard oasis that's as cozy and comfy as any well-designed family room.
At the same time, the recession forced many of us to look at our homes in new ways, as both a source for entertainment as well as shelter. The result was a rise in staycations, where sticking close to the nest has become more the norm than the exception.
Cue the rebirth of outdoor living. "People are nesting more, so they naturally want to extend their home life outdoors," says Steve Elton, chief brand officer for Brown & Jordan, a 78-year-old company that has long designed award-winning outdoor furnishings. "It used to be you had a Weber grill, a table and chairs and that was it. Now you've got whole kitchens outdoors, fireplaces, even waterproof electronics to extend the season. The outdoor experience has evolved."
Outdoor spaces are second only to kitchens as far as priority renovations go, according to the Propane Education and Research Council. Of the 5,000 homeowners interviewed for a survey by HGTV and Casual Living magazine, a whopping 87 percent said an outdoor living room was important or very important and more than half said they already had one. Clearly more and more of us — especially those in the new home market — are looking right outside our windows for spots to both relax and entertain.
Read more at NewHomeSource.com
Wednesday, 25 February 2015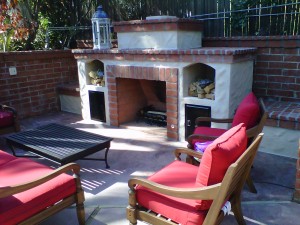 Bring to life your neutral outdoor room furnishings with pops of color making use of cushions and pillows covered in dynamic outdoor fabric. Use green tropical patterns, light browns and yellows to welcome the summer time. Switch to warmer oranges and reds when the weather begins to cool off in the fall.
Lemonade, watermelon and the buzzing of bees herald the first days of summer and days spent outdoors. If you have an outdoor room or a screen-in gazebo protected from summer's rain and annoying insects, adding pillows and cushions to your outdoor furniture can help soften the space with comfort. It also ties interior and exterior living spaces together with similar color schemes, patterns, styles or themes. Add new fabric to existing cushions to give them a fresh, updated look.
Layers of Comfort
Cushions added to wicker, rattan or wrought-iron patio furniture bring a splash of color and comfort to your outdoor living space. Large cushions plunked on benches or set directly on the floor of a wooden deck offer additional seating in a pinch. A few accent pillows add layers of soft comfort, but a variety of shapes and sizes will give your outdoor room a plush feel and custom look, especially when pillows contain prints with a fun theme or motif.
Brighten the Outdoor Room with Color
Bright colors breathe new life into old or outdated porch or patio furniture cushions. Continue a color scheme already used indoors or pick up a vibrant hue found in the flowering plants in your garden. Go bold with colored accent pillows in outdoor rooms in intense purples, sunny yellows or crisp corals. If you need a little inspiration for choosing colors, look to Mother Nature. Browse through your local nursery or gardening center to find flowers in the colors that appeal to you. Add these flowers to your garden and scatter pillows to match in your outdoor room.
Read more at homeguides.sfgate.com
Find out the many more ways you can utilize outdoor fabric to spruce up your backyard and patio.
Saturday, 14 December 2013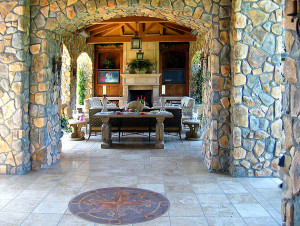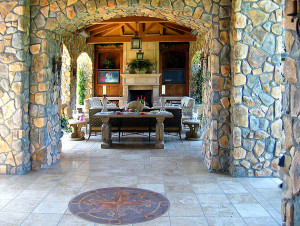 Want to add an extra room to your house and create more living space? One way is to create your room outdoors. More and more San Diego home owners are finding out that outdoor rooms can create a wonderful oasis right in their backyards. Our near perfect weather makes outdoor rooms in San Diego very desirable. Your outdoor can be a secluded spot to unwind, a place to entertain friends and family, a full scale outdoor kitchen or dining area or even a family room with an entertainment center, bar and fireplace.
Many designers suggest making your outdoor room a continuation of what is inside your home. That the flow should match enough that passing from inside to outside is barely noticed. For example, you can use french doors in a bedroom to expand out to a lounging area or a place to enjoy your morning coffee. The best way to begin developing your outdoor room, they say is to go inside and look at the views from your windows. Look for ways to create the feeling that your outdoor rooms in San Diego CA is an extension of your home. Consider tiles and flooring inside your house leading on a pathway to your outdoor room.
Building an outdoor room requires a reasonable amount of planning. What is the room going to be used for? Would one large room be best or would several smaller rooms? How can you make it both functional and enjoyable? If it is not, you will not use it and you might as well save your money.
A outdoor room can be designed with almost any type of budget but it is important to know what you can spend before you begin. There are many questions to consider. Are you going to need professional help with the design and build? Will your project require additional plumbing, gas lines or electrical circuits? What kind of permits are you going to need to build?
Water can be a very important feature in creating your backyard oasis. The sound of water is relaxing and calming. It may be as elaborate as a waterfall, koi pond or jacuzzi tub or it can be as simple as a small fountain. Water will certainly be an element you will want to try and include.
Fire can also be an important element. Firepits and/or fireplaces can extend your outdoor use both in terms of night and season. Firepits are attractive, functional and provide an cozy outdoor gathering place.
If you want to make your outdoor rooms in San Diego CA feel like a room add flooring or hardscaping. It can be a deck, concrete slab or stone flooring, or a bench, lattice, fountain and a number of items that can make up your hardscape. Hardscaping helps to define space and direct traffic. Many homeowners plan their hardscaping completely before deciding on the rest of the elements.
Sun and shade are other important elements to consider when creating your outdoor oasis. Make sure you have plenty of both.
Your outdoor rooms in San Diego can be all you want it to be if you plan properly. Consider talking to a professional San Diego design and build landscaper. Their knowledge and experience can be well worth the expense. Call San Diego Landcare Systems, Inc. at (760) 788-8140.