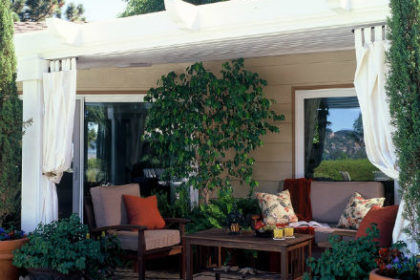 When your mom told you to turn off the TV and play outdoors already, she knew what she was talking about. Hanging outside is good for our mental and physical well-being.
As adults, having an outdoor retreat adds an economic component: Upwards of 80% of homebuyers said patios and front porches are "essential" or "desirable," according to the "What Buyers Really Want" survey from the National Association of Home Builders (NAHB).
So how come when we move into our dream home, we hardly ever use our decks, porches, and patios?
An anthropological UCLA study, described in the book "Life at Home in the Twenty-First Century," blames our fascination with digital devices — tablets, computers, televisions, games — for keeping us cooped up. The UCLA research participants spent less than half an hour each week in their outdoor space. And these were Californians.
So this summer let's make a pledge to pay more than lip service to outdoor living so we can be happier, create lasting memories, and generally take advantage of what home has to offer.
Go Big on Comfy in Your Outdoor Living Space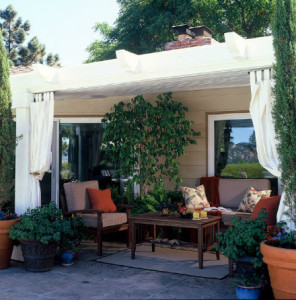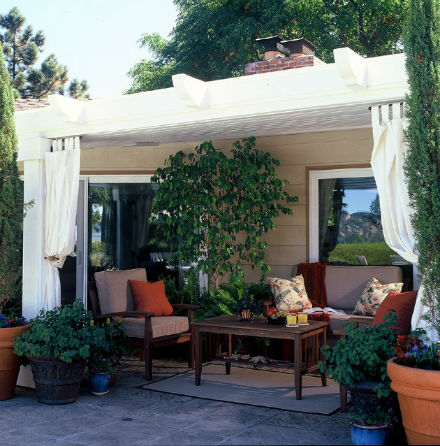 When you step into your outdoor living space, your first sensation should be 'ahhhh'. If you're not feeling it, then your space is likely lacking the comfy factor. Comfy is easy to achieve and can be as low cost as you want. Start simple with a cushion or two or even a throw. Some other simple strategies:
Make sure your outdoor seating is as cushy as your indoor furniture. Today's outdoor cushions aren't the plastic-y, sweat-inducing pillows of the past. Plus, they can handle a downpour and spring back once they dry.
Lay down outdoor rugs so you're just as comfortable barefoot as you are inside.
Give yourself some privacy. Create natural screens with shrubs, bushes, or even bamboo reeds. Or install prefab screens from your local home improvement store.
Read more: http://www.houselogic.com/home-advice/decks/outdoor-living-ideas/#ixzz3g4gYXYR3
Follow us: @HouseLogic on Twitter | HouseLogic on Facebook
Outdoor living space