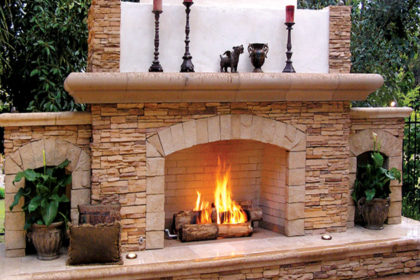 We can warm up your backyard so you don't have to be chased inside when the fog comes rolling in. We can create custom fire pits, outdoor kitchens and outdoor fireplace San Diego. When you need a San Diego outdoor fireplace contractor or need to give your yard a complete makeover call San Diego Landcare Systems, Inc.
A client's outdoor fireplace San Diego. 
" An adequately heated outdoor space can mean the difference between your family members and dinner guests milling around enjoying themselves late into the evening or scurrying indoors to find relief from the cold and wind. Keep your outdoor space as cosy as possible in the cooler months with these ideas…Think outside the box with your choice of exterior fireplace. This 1.8-meter-wide custom-built rugged sandstone stunner features gorgeous fireballs for a delightful twist on the typical set-up. " http://www.houzz.com/ideabooks/26422828/list/Hot-Spot–10-Ways-to-Heat-Up-Your-Outdoors/
Here is an interesting video of some amazing outdoor fireplaces.
Amazing Modern Fireplaces For Your Outdoor Designs
Be sure and check out our Idea Gallery for more ideas and photos on outdoor fireplaces in San Diego and other great looks for your backyard.
Related articles across the web