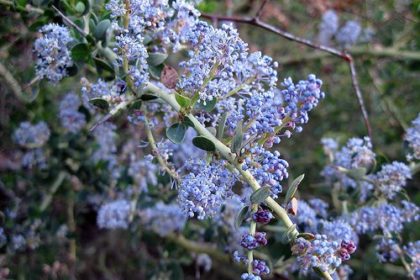 Enjoy a fuss-free, water-wise garden in the Golden State by growing plants naturally in tune with the climate and wildlife
by Debbie Ballentine,  Houzz.com
Top Water-Wise Native Plants, Trees and Grasses
These plants provide an important habitat to critters large and small, stunning seasonal colors, textures and interest in any-size garden, and are climate appropriate in dry California summers. They were chosen for their gardening ease, extreme beauty, value to wildlife, minimal maintenance and availability at nurseries, and because they are native to most regions of California.
Plant California natives in the early fall to benefit from the rainy season — they put down their roots when it's cool and wet. Once established, they require only infrequent water during dry summers. The rule of thumb to establish water-wise California natives is to water once a week the first summer, once every two weeks the second summer, once every three weeks the third summer, and then water monthly or not at all during subsequent summers. (Not all natives are drought tolerant. Some require infrequent water and others regular water as frequently as every three days. Know the plant and its needs before buying.)
Coast Live Oak
(Quercus agrifolia)
Native from the coastal bluffs to mountain ridges in many plant communities below 5,000 feet, Mendocino County south to Baja California and the Santa Cruz and Santa Rosa islands
With their large, shady canopies, pollen-laden catkins and desirable acorns, California oaks provide more food and habitat for wildlife than any other native plant. They provide food and shelter to a plethora of birds, deer, mammals, butterflies and pollinators.
Due to their susceptibility to oak root fungus, native oaks are intolerant of summer water and prefer to be planted in a naturalist setting where they won't receive irrigation during the dry season. Coast live oaks look best and are happiest with other drought-tolerant native plants, like manzanita, ceanothus, hummingbird sage, barberry, pitcher sage, coffeeberry and currants, to name a few.
Plant a heritage oak tree this fall that will provide a habitat and beauty for multiple generations to come.
California Lilac
(Ceanothus spp)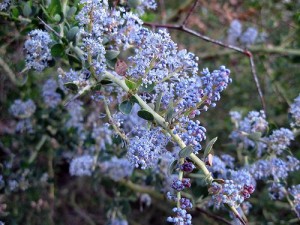 Native to dry ridges and slopes in many plant communities below 10,000 feet across North America, from southern Canada to Guatemala
Amazing blue flowers covered in pollinators brighten the garden in the spring, while the dark evergreen foliage is rich green throughout the year. There are a number for species, cultivars and hybrids of California lilac to choose from, including ground covers, medium-size shrubs, large shrubs and extra-large shrubs. Some can even be espaliered or trained into a small tree.
Plant California lilac where it won't receive summer irrigation after it's established to extend its life beyond five or 10 years.
Read More about native plants at houzz.com