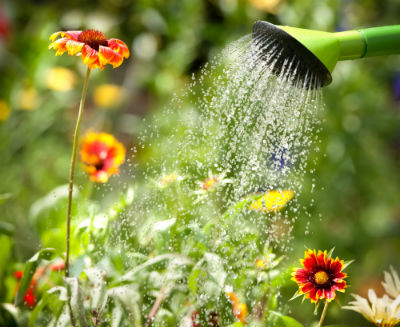 Reduce Water Usage Dramatically with These Water Saving Landscaping Tips
Did you know there are effective and easy ways to have water saving landscaping without doing a major landscape renovation?  Even here in drought-stricken California it is estimated that we are using up to 25% more water than they need to maintain healthy, beautiful landscapes. In fact, many experts agree that we would have healthier landscapes if we watered more effectively, but with using less water.
Here are 12 water saving landscaping tips you can do to reduce your water usage:
Establish your automatic sprinklers to run in the early morning and be finished by 8 AM. This will decrease evaporation and will certainly minimize the possibility of water waste disturbance from wind.
Use low-cost soaker hoses to drip water via countless small pores across the length of rubber tubes. Snaked with shrubbery and attached to a timer set for early morning watering, they can cut water use by as much as 70 percent over standard sprinklers.
Place a layer of organic compost on the soil surface around plants. This can conserve hundreds of gallons of water each year. Mulch protects against water evaporation as well as prevents weeds from growing.
Water much deeper and less often. The majority of gardens on automated sprinkling systems in California are overwatered. Modify your sprinkler system to water every other day or even every third day. At the same time, increase the times by only 50-75%. You'll have less evaporation and water will be further down where roots can continue to access the water.
Use water-retentive Danish Potting Soil in containers for all plants needing regular or ample water. For plants requiring moderate to low water, use Edna's Best Potting Soil along with Soil Moist in containers. These will store water for later use as the soil dries.
Reduce the area of your landscape that is using a parched lawn.
Plant at the very least one tree in your yard– for color, for beauty, and for posterity.
Choose drought-tolerant plants adapted to your site's environment, soil type, as well as sun exposure.
Observe your sprinklers as they run. Adjust them as necessary to lower overspray on pathways, roads, patios and more. Repair damaged sprinklers promptly.
Repair any dripping outdoor spigots or hose bibbs.  Left unchecked, it doesn't take long for even a small leak from a hose bibb to waste hundreds of gallons of water.
Water just the roots of your perennials, annuals, and also shrubs– don't bath the fallen leaves. This reduces the threat of fungal disease while minimizing water evaporation.
Use wireless "smart controllers" to activate your automatic sprinkler system via computer based on current weather data about the specifics of your landscape. Just replace your automatic timer with a "smart controller". You will also enter easy-to-determine information about your plants and soil. You can save 40 gallons or more each day using this type of controller.
Related articles across the web