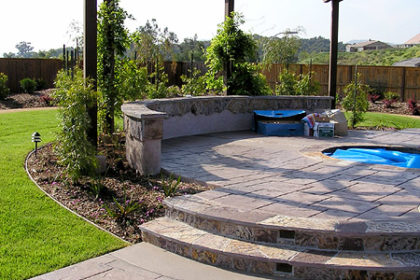 Everything you need to know about stamped concrete patios, including benefits, drawbacks, and costs.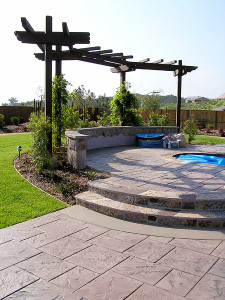 Stamped concrete patios give you the look and texture of a stone patio for a lot less than the real thing — up to 50% less than the cost of natural slate or limestone.
That's not all. Stamped concrete can mimic brick, cobblestones, cracked earth, and weathered wood. Add a bit of fun with leaf patterns, animal shapes, even dinosaur footprints.
Best of all, a stamped concrete patio is low-maintenance — the "stones" won't settle over time, creating uneven surfaces, and there are no grout or joints that can open up to let grass and weeds sprout.
What's a Stamped Concrete Patio?
A stamped concrete patio is simply a concrete slab with a textured, embossed surface. The contractor:
Pours and smooths the slab.
Presses a pattern into the surface while the concrete is still wet and soft.
For realism, adds color to the concrete as it's mixed, or sprays it on after the surface has been stamped.
Make sure you hire a contractor who's done stamping, and has the examples to prove it. Check references.
What's the Deal with the Stamps?
The patterns are made using large, flexible polyurethane stamps. The stamps are about 2-by-2-feet square and an inch or two thick, and they're pressed into the wet concrete to create the textured finish.
A concrete contractor may step on the stamps to press them into the concrete or use a tamping tool. Before putting the stamp on the concrete, the contractor sprays the patterned side of the stamp with a release agent that prevents concrete from sticking to it.
Using a colored release agent accents cracks and grout lines, giving the finish an "antique" look that enhances realism.
One pattern usually is a set that includes several stamps, each one with varying textures and shapes, so the overall pattern isn't repeated too frequently. Stamps also have interlocking tabs so any grout lines align perfectly.
Read more about Stamped Concrete Patios at http://www.houselogic.com/home-advice/patios/stamped-concrete-patio/#ixzz3nzPbg6AO
Follow us: @HouseLogic on Twitter | HouseLogic on Facebook