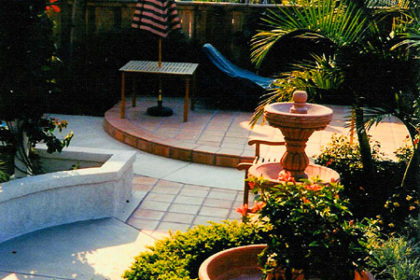 Creating truly outstanding small space landscapes is a specialty of certain well known designers. Their fame is based on a firm grasp of three valuable techniques that your designer can exploit just as easily. When you hire a company to help design your outdoor living spaces for the condo, the townhouse or just a not-so-large yard, here are the basics for getting it right in cramped quarters.
Concept #1 Small Space Landscapes Need Many Small Focal Points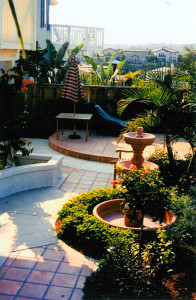 The single biggest problem of small space design is that there are no grand views, nor is there enough space to create an outstanding focal point. This results in limited visual appeal. The solution is to create many tiny focal points throughout these spaces that can become surprises when unexpectedly discovered. Gathering them is a great opportunity to shop for delightful objects of art that are weatherproof enough to live outside. Whether they are stone, ceramic, glass or metals, these are for you to choose and your designer to arrange them in the most optimal place.
Keep in mind that you need not have all these objects at the start of the project. Opportunities will arise both during and after the design process. Avoid mass produced items that may be seen elsewhere. Make your small space landscape uniquely yours by searching for one of a kind architectural salvage, antiques and original works of garden art.
Don't make the mistake of putting all these focal points front and center. Certainly one or two may be outstanding in the garden as a basis for surrounding spatial or planting design. The others are best sequestered amidst the plants, looking as though they have always been there. Remember, it's about visual discovery, so when a guest suddenly spots one there in the green or amidst the blooms, it offers the joy of surprise. Imagine dining in a garden where these carefully composed surprises positioned for the guest to find throughout an evening compared to a space featuring just a single focal point.
Read more about small space landscapes at LandscapingNetwork.com
Related articles across the web