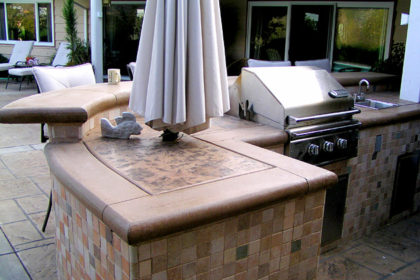 Have you considered an outdoor kitchen?  San Diego is a great place to enjoy the outdoors year round right in your backyard and just as a kitchen can be the gathering place inside it can be that and a bit more roomy outside. The folks at Houzz have some great ideas to get you thinking and so do we at San Diego Landcare Systems.  For san diego outdoor kitchen design Gives us a call.
By Vanessa Brunner
Today an outdoor kitchen means much more than a barbecue and a cooler of soda. While most modern outdoor kitchens still hail the grill as the central fixture, many have evolved into an extension of the home's living space. Many people want to have the same conveniences they have inside, if not more. Custom outdoor kitchens can include pizza ovens, wet bars, fireplaces, side burners, smokers, warming drawers and roasting spits.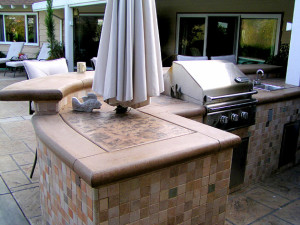 Anyone who has remodeled or designed a kitchen knows that there are a lot of things to take into consideration. Making sure your space is functional for cooking, entertaining, and relaxing can become overwhelming very quickly. However, the process can be simplified by dividing and conquering: Think about what you'll be using it for the most, decide on a location, and determine the entertaining, living, and cooking spaces.
Function. As always, it's important to think about what the primary function of this area will be. Are you a chef-in-training? Then focus on the kitchen appliances, materials and layout. Do you plan on throwing dinner parties? Will this be near a pool? Will it just be an area to lounge, eat and relax? Once you figure this out, you can choose your must-haves for each area and which portion of your outdoor kitchen you'll want to focus on.
Read more about san diego outdoor kitchen design at Houzz