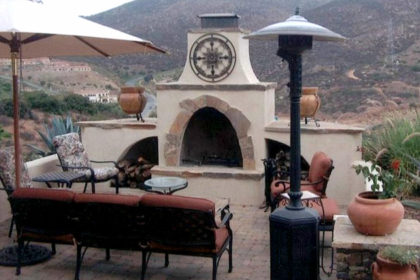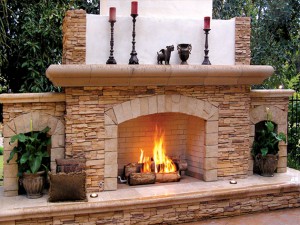 Perhaps nothing can anchor an outdoor room and create a central focal point like a San Diego outdoor fireplace. Building an outdoor fireplace is a excellent way to get year round use of your backyard. At San Diego Landcare Systems we love designing and building beautiful outdoor fireplaces. If you are considering an outdoor fireplace you have come to the right place. We have gathered some of the best ideas, galleries and articles about outdoor fireplaces right here. Want more information? Please call us at San Diego Landcare Systems (760) 788-8140 and visit our gallery sdlandcaresystems.com/fireplaces.
Outdoor Fireplaces in San Diego Burn Safe and Clean
Everybody loves a good fire. We love them so much we'll go camping just to sit around one. We'll even build one in our own home so we can see the flames dance. But what if you don't want to leave the house but still would like to sit outside and enjoy the natural atmosphere of a nice fire? This is why many people invest in an outdoor fireplace. More often than not, outdoor fireplaces come in unique styles and designs: they aren't just an indoor hearth installed outside. Sometimes referred to as chimineas, they are often freestanding, portable stoves designed with a chimney that helps to draw fresh air in for a clean, hot burn and then draft the smoke back out through its top. This makes them more efficient and convenient, not only because you can place them wherever you want (decks, patios, lawn), but unlike firepits, they are self-contained.
Read more: http://www.homeadvisor.com/article.show.Outdoor-Fireplaces-Burn-Safe-and-Clean.13815.html#ixzz2taperDLa
San Diego Outdoor Fireplace and Fire Pits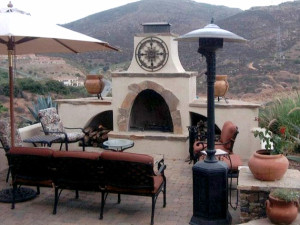 Create a beautiful focal point for your outdoor room, and add seasons to your outdoor living.
Spring Patio Fix-Ups: Install a San Diego Outdoor Fireplace or Fire Pit
More than nearly any other outdoor feature I can think of, a fireplace (or fire pit or bowl) instantly makes the yard the place where everyone wants to be. It easily becomes the focal point of a space, drawing friends and family together around its warm glow. Whether your ideal vision includes kids roasting marshmallows over a rustic wood fire pit, or relaxing with a glass of wine in the evening in front of a beautiful gas fireplace, there is sure to be a just-right fire feature for you.
Dreaming of adding an outdoor fireplace to your yard? Here are 10 key things to consider so you can start transforming your dreams into plans.