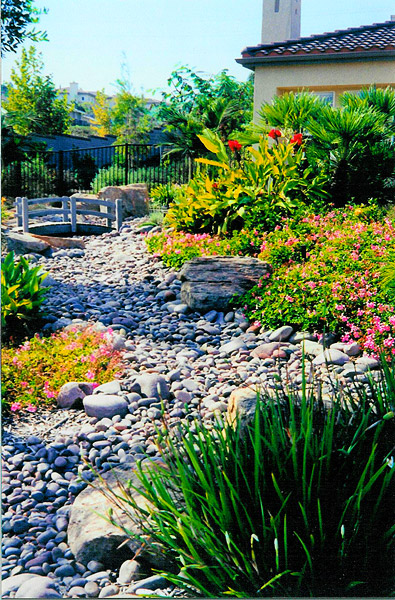 Instead of a poured concrete swale, these homeowners opted for a dry stream bed lined with water-worn stones and edged with eye-catching plantings. San Diego dry streambeds are becoming very popular in sustainable landscapes.
by Paula Refi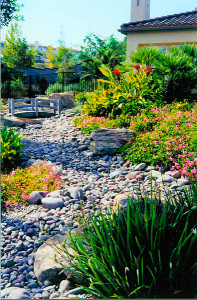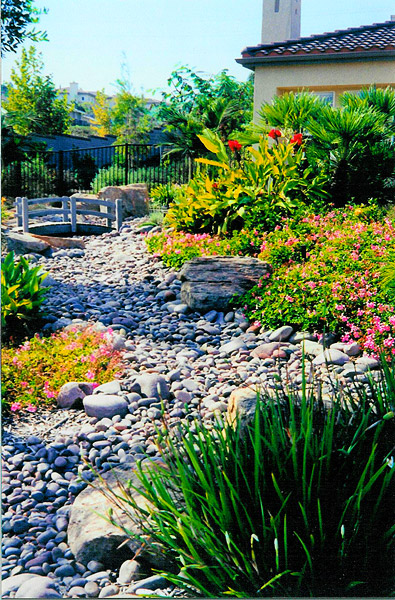 Few phrases are more likely to discourage a gardener than "designated drainage easement." Today's trend toward building large homes on small lots, particularly in congested urban areas, has made that expression an all-too-familiar part of the homeowner's lexicon. Large-scale grading and the construction of impervious surfaces like terraces, roofs, and driveways drastically alter the  natural movement of water across a site. New neighborhoods must then be equipped with networks of catch basins, buried pipes, and open drainage swales that direct runoff away from homes.  While these systems address hydrology issues, they create challenges when it comes to landscaping.
San Diego Dry Streambeds Stop Erosion and Enhances the Landscape
Fortunately, there is a solution. A dry streambed—one that has water running in it only in wet weather—can secure the soil and direct rainwater runoff while turning an eyesore into an appealing garden feature.
COMMON PROBLEM, CREATIVE SOLUTION
In 1993, Barbara and Gordon Robinson asked me to design the landscape for their new home. The site included a drainage area that collected surface water from several adjacent properties in a depression, or swale, across the rear property line, then directed it along the side of the house to a storm sewer at the street. On new homesites nearby, efficient concrete flumes had been constructed to carry the effluent as swiftly as possible. But Barbara, a dedicated gardener, was unwilling to sacrifice plants for plumbing.
An initial plan to install a French drain buried beneath a pea-gravel path was discarded when the gravel rolled downstream in the first storm. I suggested a dry stream—a shallow swale lined with stone substantial enough to withstand a serious downpour.
Read more at finegardening.com
For more information on creating San Diego dry streambeds visit our landscaping idea gallery or call us at 760-788-8140