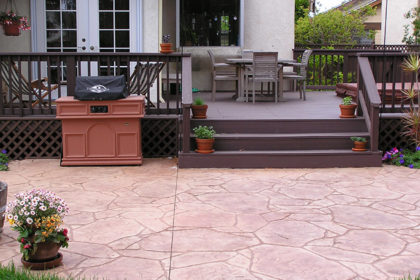 There are so many patio stones on the market, it can be hard to choose. So we've done the research to help you make the right choice for your home.
Natural Patio Stones – Flagstone, Slate, and Marble
Almost any stone can work as a paver, but most are either sandstone, limestone, slate, or granite. The materials you select will be especially cost-efficient if they come from locally operated quarries; check your local stone supplier before looking at national home improvement chains.
Stone pavers are cut into modular shapes; 6-by-12, 12-by-12, and 18-by-18-inch sizes are standard. Uncut pavers have rough, irregular edges and come in various sizes.
When it comes to installing uncut stone, an experienced pro works quickly and is your best bet for a good-looking patio with even spaces between stones.
Concrete Patios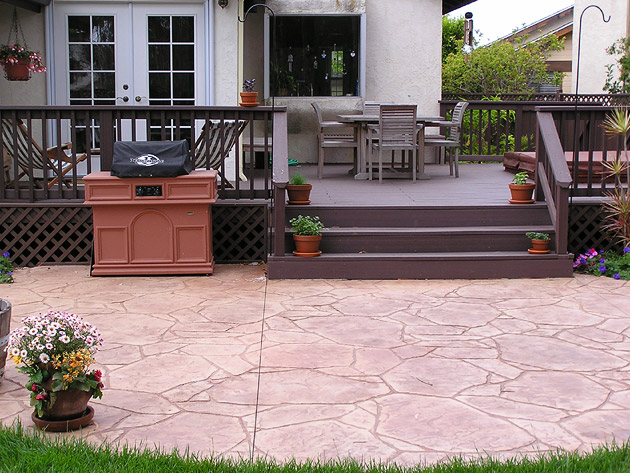 Concrete can be finished off in lots of imaginative ways — brushed, acid washed, scored, and stamped — and lots of colors. Its long lifespan and relatively inexpensive installation make it a popular choice.
Stamped concrete can simulate flagstone, brick, cobbles, and other decorative patterns.
A stamped concrete patio gives you the look
and texture of a stone patio for a lot less than
the real thing — up to 50% less than the cost of natural slate or limestone.
Best of all, a stamped concrete patio is low-maintenance — the "stones" won't settle over time,
creating uneven surfaces, and there are no grout or joints that can open up to let grass and weeds
sprout.
Brick Patios
Brick pavers are classic. They've got lots of character, and you can explore your creative chops by setting them in intricate patterns. Thinner than typical "builder bricks" used on home siding, they're made to hold up under heavy foot traffic.
Brick pavers come in a variety of shapes, sizes, colors, and finishes, and can look old or new. Because they're smaller than other pavers, they take a while to put in place, and installation costs can be higher.
Related articles across the web