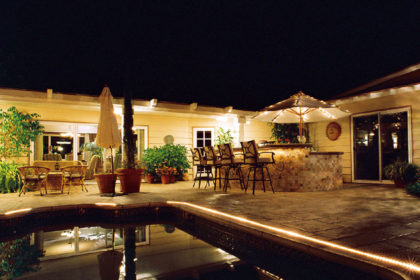 Patio Ideas for San Diego Homes
Some people with smaller yards think the idea of a patio is out of the question. However that could not be further from the truth. Even small yards can benefit from the beauty of a properly arranged and decorated patio. Although many people with smaller yards only use the space to barbecue, by adding in a patio, you not only beautify the space, but you will find yourself using your backyard for many social events. Often people who have smaller yards feel that the limited space will not allow them to do much. However, a patio built in a cozy area with concrete tiles and a bright green lawn looks quite beautiful. There are many ideas that are available for small backyard gardens and patios. With very little effort, a beautifully landscaped garden can be formed into the shape of a patio, adding both comfort and value to your home. You can read about a few patio ideas below.
Ideas for Patio Design
Many people with homes that have smaller backyards run out of ideas for designs because they are thinking too large. It is possible to redesign your patio with very little expense. One possible idea is to place ornamental plants around a small lawn. However, with very little effort you can build a small patio and use potted plants to decorate. This will take half the time, less money, and utilize the area efficiently. You can even build in spaces for patio furniture. There are a multitude of patio ideas that can be utilized to create an attractive patio and utilize smaller spaces to create a cozy and complete look for your home. You can use any number of shapes and sizes to create an economical small patio within your limited space and budget. Keep reading to see some of these patio ideas.
Here is a quick idea for a shady patio.
If you want a garden in your limited space, you will want it to look inviting and natural. You may want to start by laying out a floor for your patio with either concrete tiles or stone. Build a 2 or 3 foot tall deck around this patio. This will give you space for a barbecue and it will also personalize the area for your small backyard. Creating shade around your patio can be done in several ways. You can use fast growing, colorful perennials (this of course will take a little longer), or place several potted palms around the area. By putting up a privacy fence and growing a few creeper type plants you can create a shady and comfortable patio in your smaller area. You may even want to build a short, half sized wall around one or two sides of your patio. This will give you areas where you can place your furniture.
Patios with Stone Design
If you prefer the look of a stone landscaped backyard, it is quite easy for you to build. One of the nice things about using stone for your smaller backyard patio is that it allows you to create a natural looking environment even though your backyard space may be limited. By utilizing stone tiles for your overall patio design, you can create almost any effect you would like. Stone tiles are the best way to build the patio design as they come in many forms. As was mentioned before, you can build half sized walls to give you areas for your furniture and fire pit.