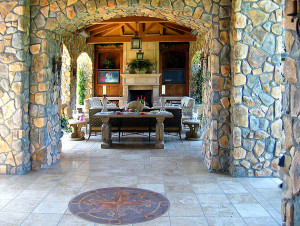 Want to add an extra room to your house and create more living space? One way is to create your room outdoors. More and more San Diego home owners are finding out that outdoor rooms can create a wonderful oasis right in their backyards. Our near perfect weather makes outdoor rooms in San Diego very desirable. Your outdoor can be a secluded spot to unwind, a place to entertain friends and family, a full scale outdoor kitchen or dining area or even a family room with an entertainment center, bar and fireplace.
Many designers suggest making your outdoor room a continuation of what is inside your home. That the flow should match enough that passing from inside to outside is barely noticed. For example, you can use french doors in a bedroom to expand out to a lounging area or a place to enjoy your morning coffee. The best way to begin developing your outdoor room, they say is to go inside and look at the views from your windows. Look for ways to create the feeling that your outdoor rooms in San Diego CA is an extension of your home. Consider tiles and flooring inside your house leading on a pathway to your outdoor room.
Building an outdoor room requires a reasonable amount of planning. What is the room going to be used for? Would one large room be best or would several smaller rooms? How can you make it both functional and enjoyable? If it is not, you will not use it and you might as well save your money.
A outdoor room can be designed with almost any type of budget but it is important to know what you can spend before you begin. There are many questions to consider. Are you going to need professional help with the design and build? Will your project require additional plumbing, gas lines or electrical circuits? What kind of permits are you going to need to build?
Water can be a very important feature in creating your backyard oasis. The sound of water is relaxing and calming. It may be as elaborate as a waterfall, koi pond or jacuzzi tub or it can be as simple as a small fountain. Water will certainly be an element you will want to try and include.
Fire can also be an important element. Firepits and/or fireplaces can extend your outdoor use both in terms of night and season. Firepits are attractive, functional and provide an cozy outdoor gathering place.
If you want to make your outdoor rooms in San Diego CA feel like a room add flooring or hardscaping. It can be a deck, concrete slab or stone flooring, or a bench, lattice, fountain and a number of items that can make up your hardscape. Hardscaping helps to define space and direct traffic. Many homeowners plan their hardscaping completely before deciding on the rest of the elements.
Sun and shade are other important elements to consider when creating your outdoor oasis. Make sure you have plenty of both.
Your outdoor rooms in San Diego can be all you want it to be if you plan properly. Consider talking to a professional San Diego design and build landscaper. Their knowledge and experience can be well worth the expense. Call San Diego Landcare Systems, Inc. at (760) 788-8140.