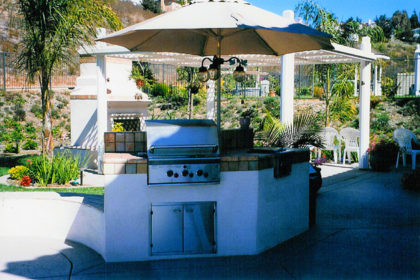 The rage for san diego outdoor kitchens is among the fastest-growing trends, and each year a growing number of home owners are realizing they too want a piece of this cool lifestyle. Outdoor kitchens are not new– people have been enjoying them for a while. Now there's no reason why you too can't join in the fun.  In the article below you can read of the many benefits of having an outdoor kitchen.  If you have questions or would like to discuss designing one for yourself please call the experts at San Diego Landcare Systems.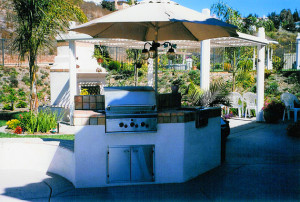 While many people think of them only as a place to cook food outside, san diego outdoor kitchens are actually spaces which function in many more ways, and have many more advantages than most homeowners realize.
The benefits of installing one not only include helping you to improve your relaxation and enjoyment of your yard, but also they can also serve to improve your social relationships and the value of your home at the same time.
San Diego Outdoor Kitchens Provide A Comfortable Space to Relax and Enjoy Your Yard
There are many reasons why people purchase a home, and one which always tops the list is being able to have an outdoor area where they can enjoy themselves as well as put their cares, problems, and stress behind them, and relax.
Installing an outdoor kitchen allows the homeowner to be able to do all of these more than any other home upgrade.
The hallmarks of san diego outdoor kitchens are the comfort and convenience which they provide. And it is by providing you with a space to cook, eat, and relax in your outdoor space without any of the discomforts of being outside yet all the luxuries of being indoors, you are able to enjoy your yard to its full potential. Typically including a cooking area, as well as a sink, fridge, and counter space, they allow you and your guests to enjoy yourselves as well as the beauty of your yard and the experience of being outdoors without having to keep running indoors to check on the food, get more refreshments, and other annoying tasks and focus on what's really important,which is relaxing. Some even come with built in bars and lighting making them even more convenient and of course with custom outdoor kitchens the options are endless.
Read More at How to Win at Life