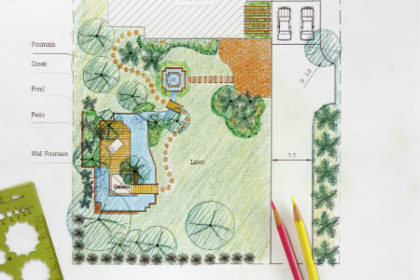 Landscaping plans are far more involved than just deciding which plants to purchase and where to plant them. It's a holistic approach to landscape design, which entails utilizing a bevy of landscape ideas, including hardscape, decks, patios, walkways, swimming pools, and ponds, as well as plants and other gardening additions. If your goal is a beautiful landscape, then solid landscape plans, and the services of a landscape designer, are definitely worth the investment and time they require.
Landscape Ideas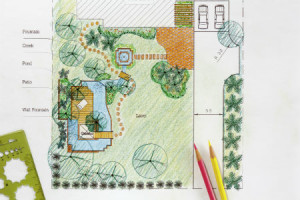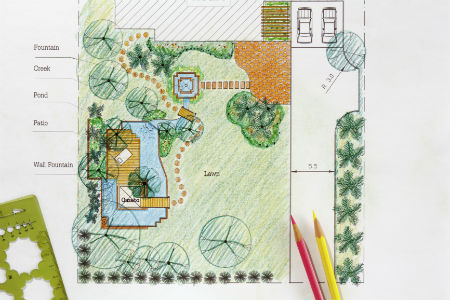 One of the most important reasons it's important to develop landscaping plans before you visit the local nursery is that there are more aspects to landscape design than most homeowners realize. The possibilities are literally staggering. Gazebos, ponds, flower gardens, vegetable gardens, landscape lighting, decks, patios, retaining walls, pathways irrigation, swimming pools, spas, trellises, awnings, and fencing are just scraping the surface of what your options are when it comes to landscape design.
Create an Extension of Your Home in Your Landscaping Plans
It's a long list, and hopefully it gives you a general idea of what goes into solid landscaping plans and the things you'll want to consider incorporating into your general design. Remember, landscaping isn't just trees and bushes. It's an extension of your home. And if it's done correctly, with the help of an experienced landscaper to provide you with landscape ideas and make sure they are implemented correctly, your outdoor landscape can be an area of your residence you'll want to spend time in just as much, or more, than your indoors.
For more ideas visit our Landscape Ideas Gallery
Read more: http://www.homeadvisor.com/article.show.Why-Do-I-Need-a-Landscape-Plan.8586.html?link_id=9207#ixzz3Pxbl6FKm
Related articles across the web