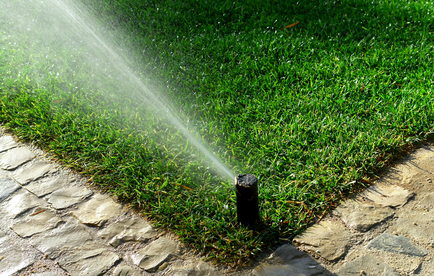 Before you begin installing irrigation in California it's important to know a few key facts so that you can effectively take care of your grass while utilizing water in a manner that is efficient and cost-effective. There are numerous types of irrigation systems in San Diego on the market today and lots of options available to you. Below are a few irrigation tips that can help you along the way.
Irrigation Tips to Understanding Your Lawn
Although there are certain types of grass that are common to California homeowners, conditions can change drastically from area to area. Knowing the topography of your area – specifically your property – will help you develop a better strategy. Some of the most common types of grass are Zoysia, Bermuda and Buffalograss. But the conditions have to be perfect even for these well-known species. It's a good idea to get soil samples, soil depth, and other logistics before purchasing an irrigation system. The more you know about your lawn, the more you can make an informed decision about the right type of irrigation in San Diego for you.
What To Do After Installation
Although proper planning and placement is important, you need to be prepared to adjust your irrigation system as you go. This depends largely on how the grass and soil responds to routine watering. It also depends on the time of year. Your lawn naturally adjusts to the fluctuations in seasons, temperatures, and other factors. So watering a certain way in the spring doesn't mean you'll water your grass the same way in the fall. Adjusting includes both the amount of water you will distribute across your lawn as well as where it's adjusted. You may need to move your system around until you get it just right.
Do Not Overwater Your Lawn
One of the most common mistakes you can make as a homeowner is to saturate your lawn. This is especially true if the California area is experiencing drought or if you are in the middle of summer when temperatures are highest. With some careful observation you'll be able to tell if your grass and plant-life is getting too much water. For instance, you may notice that your plants are growing as they should. Yellowing leaves are also a good indication of overwatering. If you notice that the trees in your yard are shedding both new leaves and yellow or brown leaves then it's obvious that the lawn is over-saturated.
Feed Your Plants
No amount of water can compensate for poor fertilization. Fertilizer gives your plants nutrients that water cannot provide. But be careful, because spreading too much fertilizer in your yard can have a worse affect on your lawn than overwatering. Overdosing your plants on fertilizer can burn the roots and cause a quick death. Different plants may require different types of fertilizer. If you don't know what type of fertilizer to give to your plants, then ask a specialist who has the knowledge on all types of plants and how best to feed them.