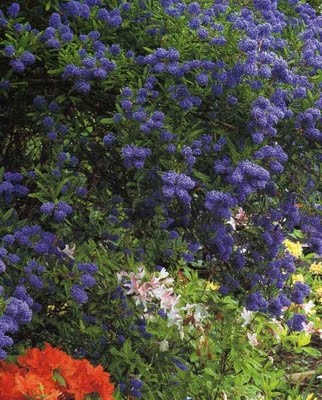 In 2007, a wildfire roared through a canyon in Rancho Santa Fe damaging numerous houses. One house that was spared could have well been saved by the big succulents growing around it. Are there fire-resistant plants? Yes, there are plants which do not fuel the fire and are considered resistant, however wildfires can burn most anything in their path. A fire safety landscape with a defensible perimeter around your home and fire resistant plants and building products can significantly enhance your home's chances of enduring a wildfire.
When selecting the plants around your residence it is a good idea to think about whether the plant is highly flammable. Plants which are highly combustible include those which can have dry or dead twigs, needles or leaves. Plants that contain combustible waxes or oils and usually have a strong smell or have a sap that is resinous and a strong odor are likewise ones you wish to replace and avoid.
What Plants in San Diego Are Fire-Resistant Plants?
Fire-resistant plants are one that is slow to ignite. It might be killed or even burn in a fire but it is not contributing any considerable fuel to the fire. Plants such as succulents which contain a high moisture content, or deciduous trees and bushes which have leaves that are wet and supple are fire resistant.
Not all, but most native plants will burn more gradually and many fire-resistant plants in San Diego are California Friendly and require less water.
Creating a fire-resistant, protective barrier around your home includes much more than simply choosing the right plants. You must keep them trimmed and maintained. Keep low-growing plants within 30 feet of the house; eliminate dead or dying vegetation and keep plants appropriately spaced. Ensure that the plants aren't touching each other, in order to prevent flames from spreading quickly. The closer the plants are to your home, the more consideration and maintenance you want to give them.
Here are some more tips to make your landscaping in San Diego more fire-resistant.
A sure means to lower fire threat around the home is to minimize plant product and increase your hardscape as rocks and concrete or swimming pools do not usually burn.
Plants are necessary most of the times (so do not believe that omitting them totally is a good idea) as roots assist stabilize soil.
Use mulch in between to prevent weed development, however keep it a couple of feet away from your home. Professionals think that the benefits of mulch retaining wetness in the ground and keeping weeds away goes beyond the risk of it smoldering.
Luckily there are numerous varieties of fire-resistant plants in San Diego that do effectively. There is likewise a great deal of details out there to help you start changing your landscape. Look into the links listed below. If you are worried about safeguarding your home with much safer landscaping surrounding it and seek the recommendations of an expert, call us at San Diego Landcare Systems (760)788-8140.
Related articles across the web