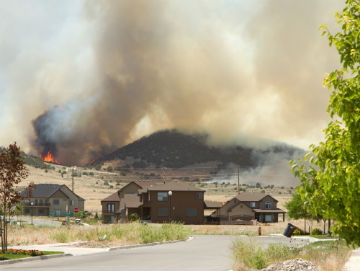 Gorgeous and well-cared-for landscaping can boost your home's value by up to 28%, punch up curb appeal, and reduce energy bills.
But landscaping also is Nature's security system that helps protect your home from fire, wind, and flooding. The keys are:
Choosing the right plants
Locating plants where they can do the most good
Keeping plants healthy with proper maintenance
Defense Against Fire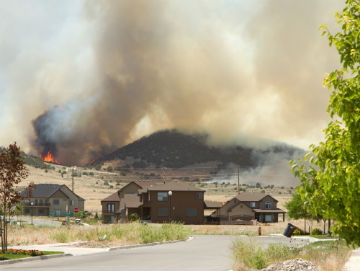 If you live where wildfires are a possibility, you should set up "fire defense zones" that make it easier for firefighters to put out blazes.
Zone 1: This is the area within 30 feet of your house that gives firefighters room to fight a blaze. Put hardscaping — flagstone, gravel, pavers — in the first 4 feet out from your house. Then, plant low growing and less dense foundation shrubs, like azaleas. Keep trees away from your house.
During a wildfire, if this 30-foot zone has burning shrubs and trees, firefighters may decide it's not safe to stop, and just move on.
Zone 2: This area extends a total of 100 feet from your home, more if your property is sloped. In this zone, trees and shrubs should be thinned out and opened up by removing branches close to the ground. Zone 2 is a good place to install wide paths, which act as firebreaks.
Maintenance Against Fire
A manicured lawn and well-maintained yard deprive flames of fuel.
Keep grass short and irrigated.
Clean up leaves, branches, and dead plants, which burn quickly.
Prune dead tree branches.
Remove weeds, especially those taller than 6 inches.
Fire-Resistant Plants
No landscaping is fireproof. But some plants, grasses, and mulches fan the flames, while others are slower to burn, giving you more time to save your home.
Avoid plants with stems that contain wax, terpenes, or oils, which are super flammable. Green fire fodder includes junipers, hollies, eucalyptus, and pines.
If you use bark mulch, which is highly flammable, keep it moist. Less flammable mulches are gravel, decorative rock, or bark-and-rock combinations.
Fire-resistant foundation plantings are azaleas, boxwoods, hydrangeas, and burning bushes (ironic, right?). Succulents, like sedum, have high water content and are less flammable.
Read more: http://www.houselogic.com/home-advice/landscaping-gardening/landscaping-design-protects-home-from-wildfire/#ixzz3nxSZ2p3R
Follow us: @HouseLogic on Twitter | HouseLogic on Facebook