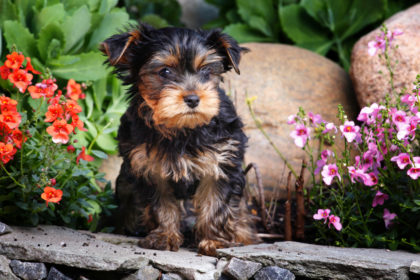 Build A Dog-Friendly Garden
Get a dog and there goes the garden. That's what many homeowners conclude, but it doesn't have to be that way. In this article and slide show from Sunset Magazine are some great tips to create a dog-friendly garden.
Dog owner Bud Stuckey and his wife, Maxine McClellan, have been breeding champion American cocker spaniels for 14 years. His home garden in Felton, California, provides a safe, comfortable environment for the dogs as well as an attractive space for plants and people.
The best way to accomplish both goals is to design your garden to meet your dog's needs, Stuckey advises. That way, Fido will be able to romp and race without injuring himself or trampling your flowers ― well, most of the time, anyway. Owning a dog also means giving up perfectionism and learning forgiveness, says Stuckey.
Step one in creating a "dogscape" is learning to think like a canine: If you were a dog, what would you want? Spaniels, terriers, retrievers ― each breed has a different personality, Stuckey says. "The better you can accommodate its particular traits, the happier your dog," he explains. "And the happier your dog, the better your chance of maintaining a garden you'll both enjoy."
ELEMENTS OF A DOG-FRIENDLY GARDEN
Gentle hardscape: Smooth flagstones set in pebbles form a dry creek bed dogs can comfortably tread.
Comfy mulch: Small cedar chips are easy on paws yet large enough so they won't cling to silky coats.
Border control: Pieces of driftwood persuade dogs to stay away from planted areas.
Running track: A long, winding path provides dogs with plenty of exercise.
Sensible plants: Plants near paths should have soft foliage but be sturdy enough to stand canine rough-housing.
Read More about Dog-Friendly Garden at sunset.com
Slide show: Photos from dog-friendly gardens