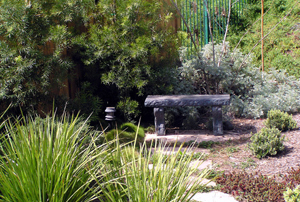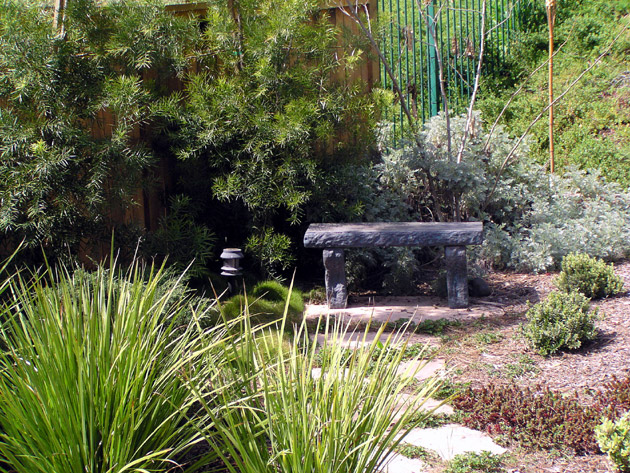 Hardscapes make your outdoor area more accessible and inviting
Fall is the perfect time to start thinking about creating an outdoor living space and your hardscapes.
Adding a hardscape area to a garden will make it more inviting and will "lure you to lounge" outside during all of California's beautiful seasons.
But what exactly is a hardscape? Hardscape is a term used to describe an area in a garden or other outdoor living space built from non-permeable materials. It is used to enhance the beauty and functionality of a natural space. A hardscape can be as simple and basic as a gravel path through a garden. It can also be an intricate patio made of stone that creates terraces that step down a hillside, and contains creature comforts like an outdoor kitchen, a hot tub, or a shady pergola with a dining table for outdoor dining.
1: Incorporate a path that winds through your garden to encourage you to walk through your plantings.
Gravel is inexpensive and does not break down like mulch or pine straw, but it is heavy. Use pre-bagged gravel available at home improvement stores for small projects and get gravel delivered directly to your house from a landscape supply company for larger ones.
A path is always more inviting if it leads somewhere, so consider creating a seating area in a small clearing with a bench, or add a birdbath or some garden statuary. A portly Buddha and dancing frogs are always welcoming.
2: Use decorative concrete block to edge pathways or flower beds.
Concrete blocks come in many sizes, shapes and colors. These are not your father's old, gray, cement blocks. They can easily be stacked to form retaining walls or planters, or they can be used single-file to create a simple border or walkway.
Pay a visit to your local home improvement store to see the options.
3: Add a water feature like a store-bought outdoor fountain or create your own using natural rock, a small pond liner and a recirculating pump.
Read more at OutdoorLivingPlanet.com
Related articles across the web