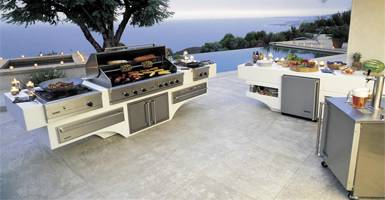 Are you ready for outdoor kitchens where every piece can be moved? Modular outdoor kitchens are quickly growing in popularity.
North Carolina architect and author of Designing Your Perfect House William Hirsch sees "a strong move away from built-in outdoor kitchens and grills to the modular units." This is in part due to the new level of sophistication you can find in modular pieces.
By Sarah Ristorcelli   NewHomeSource.com
Outdoor kitchens have been around for about a million years — literally — ever since humanoids first learned how to use fire to cook food.
Moving fire indoors was the real revolution, and a luxury most families couldn't enjoy for much of history. It's no wonder the kitchen is finally returning to its natural place in the order of things, the backyard.
The past 10 years have seen an explosion of outdoor kitchens and products that transform the backyard into a party pad, family gathering place or romantic enclave. What brings the party? Food and libations, and that's the whole point of moving your kitchen outdoors.
Portable kitchens are the tried-and-true originals. The wood fire evolved into a lightweight charcoal grill that your uncle flipped burgers on when you were 10. There are still great grills on the market, many that are standalone versions. At the high end, there is the FireMagic Steel Echelon Diamond stand-alone natural gas grill, which offers a fine-tuned cooking environment for serious home chefs. It comes complete with storage space and food-prep surfaces and guess what else? It rolls around on wheels, so you don't have to commit to its location. This works for those who want the option to rearrange and redecorate their patios whenever the mood strikes.
Modular Outdoor Kitchens Are Designed for a Wide Range of Budgets
All an outdoor kitchen really needs is a place for cooking, but today's modular kitchens have evolved considerably and are available to those in all budget ranges. Whether you have the space and budget for a small outdoor dining area or a large patio, you can enjoy outdoor cooking without too much of an expense.
Read more at NewHomeSource.com
Related articles across the web