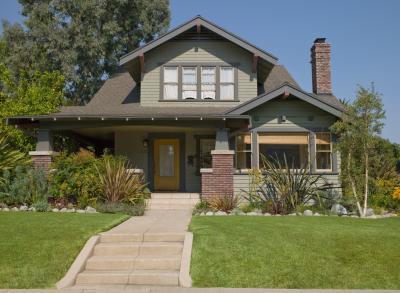 Want to increase your home's value while adding greater functional and entertaining value to your home?  Consider having an exterior or outdoor remodeling.  A San Diego outdoor remodel can give your home and your entire property  a whole new look and feel.  You can even carry look of your interiors right outside. Our landscape design team at San Diego Landcare Systems can help you get the job done right.  We have over 35 years experience in designing and completing remodeling projects.  Meanwhile, here a few good ideas to get your juices flowing.
By Mary Cockrill, SF GATE
Your home's exterior provides a hint of what's waiting inside. An ill-kept or outdated exterior can be an immediate turnoff to guests and potential homebuyers. If this describes your home, then it might be time to make some needed changes. Exterior remodeling projects can make your home warm and inviting, improve curb appeal and increase market value. You don't have to spend a small fortune on exterior updates. Small, budget-friendly changes can also make big improvements. Set a remodeling budget you can live with and get to it.
Clean and Repair: The Start of Your San Diego Outdoor Remodel
Updating your home's exterior begins with cleaning and repairing. A neglected, dirty and cluttered exterior is an eyesore that needs immediate attention. Remove clutter from porches and decks, and clear leaves and other debris out of clogged gutters. Start up a pressure washer to clean the dirt and grime off of exterior walls, windows and porches. Repair any cracked and chipping sidewalks, broken windows, loose bricks and wobbly stair rails. Crumbling concrete and deteriorating bricks can cause safety issues, as well as possibly creating bigger problems if not repaired promptly.
Read the entire article at SF Gate
San Diego Landcare Systems is your one stop shop for landscaping projects. We take you all the way from landscape design to completion.