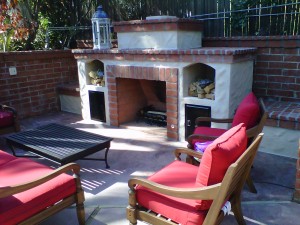 Bring to life your neutral outdoor room furnishings with pops of color making use of cushions and pillows covered in dynamic outdoor fabric. Use green tropical patterns, light browns and yellows to welcome the summer time. Switch to warmer oranges and reds when the weather begins to cool off in the fall.
Lemonade, watermelon and the buzzing of bees herald the first days of summer and days spent outdoors. If you have an outdoor room or a screen-in gazebo protected from summer's rain and annoying insects, adding pillows and cushions to your outdoor furniture can help soften the space with comfort. It also ties interior and exterior living spaces together with similar color schemes, patterns, styles or themes. Add new fabric to existing cushions to give them a fresh, updated look.
Layers of Comfort
Cushions added to wicker, rattan or wrought-iron patio furniture bring a splash of color and comfort to your outdoor living space. Large cushions plunked on benches or set directly on the floor of a wooden deck offer additional seating in a pinch. A few accent pillows add layers of soft comfort, but a variety of shapes and sizes will give your outdoor room a plush feel and custom look, especially when pillows contain prints with a fun theme or motif.
Brighten the Outdoor Room with Color
Bright colors breathe new life into old or outdated porch or patio furniture cushions. Continue a color scheme already used indoors or pick up a vibrant hue found in the flowering plants in your garden. Go bold with colored accent pillows in outdoor rooms in intense purples, sunny yellows or crisp corals. If you need a little inspiration for choosing colors, look to Mother Nature. Browse through your local nursery or gardening center to find flowers in the colors that appeal to you. Add these flowers to your garden and scatter pillows to match in your outdoor room.
Read more at homeguides.sfgate.com
Find out the many more ways you can utilize outdoor fabric to spruce up your backyard and patio.