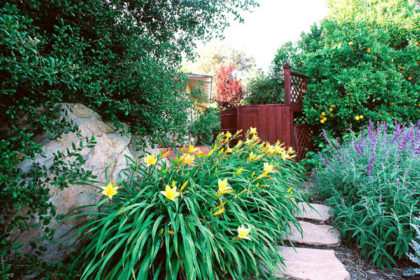 What are the main elements that create a good garden design? In this very good article from Better Homes and Gardens see how all of these elements work to make a well-designed garden. create a good garden design?  They are line, light, texture, form, scale, pattern, balance, unity, contrast, color, unity, variety and rhythm.
From BHG.com
Line in Garden Design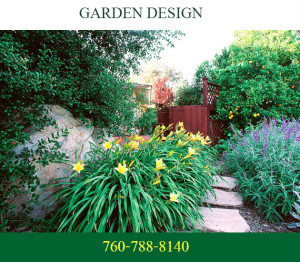 Line is one of the most important and useful of all design elements. Everything in the garden involves line. Think about the trunk of a tree, the distant horizon, the line created when a lawn ends and the adjacent woods begin. A sidewalk, driveway, or fence is a clear and readily accessible line in the landscape. As you plan and design your garden, always consider the line that is created by whatever you are adding.
There are four main ways to describe lines: curved, straight, horizontal, and vertical. None is more important than the others — each has different effects. Strong lines can draw your eye into the landscape, directing both where people look and where they go.
Curved lines shape informal garden beds and add interest to pathways. Straight lines evoke a sense of order and a crispness that is more formal.
Soothing horizontal lines create a sense of stability. Think of the ocean and how its wide expanse meets the sky, creating an irrefutable sense of peacefulness and majesty. Vertical lines project a sense of strength and movement.
No matter which types of line you use, be aware that lines lead the eye. Lines going away from you on the ground draw you forward. Horizontal lines on the ground slow you down. Vertical lines lead the eye up and out of the garden. Curving lines take the eye on an intriguing journey. All are desirable. It's up to you to know where the lines will lead you or your eye and what you will see when you get there.
Light in Good Garden Design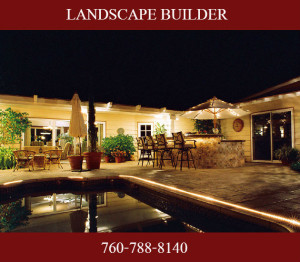 What could be more lovely than early morning or evening in the garden, when plants virtually glow from warm back lighting? Who can deny that light gives plants life?
Light and shade change the way colors look and how they work together. Although you can't control natural light, you can play up its effects. Bright light has the same impact as warm color — it advances visually, making an object or area feel closer than it really is.
Keep in mind that light can be either natural or artificial. It is easy to add a low-voltage lighting system to extend your garden enjoyment into the evening hours. Various fixtures and their positioning create different effects. Front lighting a dark area highlights a particular feature. Back lighting silhouettes a sculpture, tree, or shrub. Side lighting, which can also produce dramatic effects, is used mostly for safety along walks and paths.
Read the rest at BHG.com